Having a modern POS system is essential for most businesses, but somehow the laundromat industry has been slow to bring the POS system into the 21st century. While other industries have developed systems that tailor to their unique processes and customers, laundromats typically haven't had access to that level of technology. Generic POS systems that are designed for any industry do not always satisfy the nuances of the laundry industry.
When looking for a laundromat POS system, you'll need software that will improve management, increase revenue, and streamline staff and customer interactions. There are 5 critical features of an effective laundromat POS that you'll want to find in your search:
Order Tracking & Process Management

Pickup and Delivery

Robust Customer Relationship Management

Business & Employee Management

Data & Analytics
1. Order Tracking & Process Management
As an owner, you want a laundromat POS system that puts everything you need to monitor orders and manage processes into one, single place. With an effective system, your business will be able to track store operations, employee information, and order data, including machine numbers and cycle stages.
Being able to track orders at any stage, from the first load to delivery confirmation, will also improve relationships with your customers and order processing within your business. As part of that, your POS system should be intuitive enough to enable quick order edits and customer communication to nurture those positive connections between you and your customers.
As part of order processing, a POS system that offers an integrated solution to enable businesses to use electronic payment system hardware and cash-card technology is also important. With this ability, your laundry business can accept cash, coins, debit and credit cards, smartphone apps, NFC credit cards and devices, or loyalty and EBT cards. Being able to accept all payment methods will offer customers a seamless payment experience.
2. Pickup and Delivery
Whether you offer your own in-house drivers or utilize the gig economy, your laundry business will want a laundromat POS system that offers the ability to track pickup and delivery. Using analytics, you'll be able to understand how drivers perform and how they optimize the customer experience.
If you're looking for a more affordable Pickup and Delivery option, the gig economy can offer a no-cost delivery model to owners and a low-cost delivery service to customers. Having a POS system that integrates with gig economy apps can help you offer this service to your customers at your laundromat business.
3. Robust Customer Relationship Management
Being attuned to your customers' purchase behaviors better equips your laundry business. When you know their laundry services needs, you can engage with them on levels you never thought your business could. You'll be able to improve customer interactions and optimize the entire customer experience.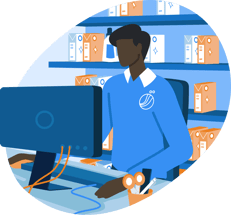 With an all-in-one laundromat system, you can track insights to help better understand your customers. Keep tabs on promotion engagement, money spent and saved on campaigns, new vs returning customers, and geographic-based responses. With a POS that can integrate customer data, you can also create dynamic promotions based on data like specific time ranges, stores, service types, quantities, and more.
If you have a laundromat website, a laundromat POS system will help provide you with more accurate insights into traffic and marketing efforts. This integration can also provide you with an organic, streamlined process to digitally encourage reviews and referrals of your laundromat. When you tie it in with promotions, you'll have the ability to try offering discount codes for each new customer referred or review left.
4. Business & Employee Management
Managing all operations in one location gives laundromat business owners the control you need in today's world to make decisions that will positively impact your business. With a laundromat POS system that can drill down into operations and performance, it helps set your business in motion.
For example, without the proper software, it can be nearly impossible to track individual machine usage across locations. The right technology can shine a light on the machines that are used the most and break down often, so you can ensure that you're fulfilling the needs of your business and customers.
Having the ability to track employee and operational efficiency is key to increasing margins. Employee data can help understand each employee's customer success strengths and help create an improved customer experience and increase customer retention and loyalty. An all-in-one laundromat POS system can help you in analyzing the different employee processes, which team tactics are working, and who is better at spelling laundry services.
5. Data & Analytics
A holistic laundromat POS system can have a major impact on the future of your business. Data and analytics overlap with so many other areas of your business, and having the right systems in place to accurately track key performance indicators for your business is essential. Collecting and centralizing all your data under one operating system helps you appropriately set goals and expectations that are backed by real-time data.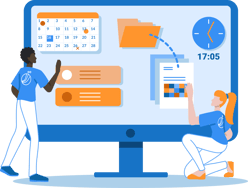 Employees, hardware, software, and locations function more efficiently when operations and performance management tools provide up-to-date insights. Whether you want to thoroughly know your business or looking for new growth avenues, you need to be able to dive deeper into performance tracking to meet or exceed expectations. Knowing your numbers, like the ones below, are some of the most important metrics for your business, and you want a POS that can provide you with:
Return on investment

Pounds folded per hour

Average processing time

Order ratings

Frequency machines break down
These numbers help visualize the growth your business has achieved, prepare you for the anticipated growth, and help you ensure you have the right team, tech, and promotions in place.
How the Cents POS System Transforms Laundromat Operations
Cents' all-in-on laundromat POS system is transforming the laundromat industry. Our software gives owners the knowledge they need to capture a greater share of the market and create new revenue streams.
Download our free infographic to discover how you can upgrade your operations with features that include:
Order Tracking & Process Management

Delivery Solutions

Customer Relationship Management

Business & Employee Management

And More!