This month, we are featuring our fantastic Sales Account Executive, Ryan Theisen as our employee spotlight! Ryan is the true definition of a team player and has the work ethic of a champion. Ryan is a beloved member of our sales team and makes every day brighter here at Cents. We spoke to him this week about his journey in sales and why peanut butter is his worst nemesis.
Q. What gets you out of bed every morning?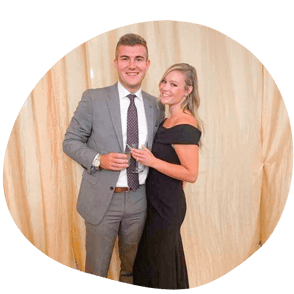 I would say, number one: that every day is a gift and a privilege. Number two, having the ability to share life with other people.


Q. What makes Cents different from other places you've worked?
Cents is different from other places that I've worked because I trust everyone on the team which creates a family dynamic. It's really fun working with a large group of younger people that you can resonate with and relate to, but more importantly, I think there's a common cliché across job applications and interviews that the company is very culture and family-oriented, but Cents really is.
Q. What is your proudest career moment and why?
I don't know if I have a specific moment because, in sales, you're always trying to close deals, so it's hard to pinpoint one. But, I think the proudest moment I've had is, starting here at Cents as the seventh or eighth employee and now we have a full team of Zoom squares in our meetings. It just shows me that there's so much more to come in all aspects of the company and I am excited to be a part of it.
Q. What advice would you give to your younger self?
This is a short answer: always follow your gut. I live by that every single day.
Q. What is your secret to making progress each day?
I would say never get too high on your horse or too down on yourself. That may sound a little narrow-minded, but I think especially in your career, it's important not to sweat the losses. I think those ebbs and flows are a natural progression of what we do.
Q. A typical weekend for me is…
It depends on the season because we have all four seasons where I live in Indiana! I love spending time with the people I love. Whether it's my family or my fiancée and her family, we love to spend it up at the lake or doing something active: yoga, golfing, snowboarding, you name it!
Q. If you could switch your job with anyone else within Cents, whose job would you want?
I would say our Chief Product Officer, Gilli because I think it's really interesting to have to build software products and to keep in mind what's the path of least resistance? How do you reduce the most amount of friction, but do that in a seamless way to where it doesn't convolute the whole product. I don't know the first thing about engineering, but I think it would be really interesting to be in his position.
Q. Tell us something people don't know about you.
I'm a foodie through and through. I love to cook and I love any food. But there is only one food I don't eat and it's peanut butter. It's the weirdest thing, I hate the smell, I hate the taste. I can literally sniff it out at any brownie, cookie, whatever it is.
Q. What advice do you have for prospective Cents employees?
Never be naive about the industry of the company that you're looking into. Don't ever be afraid to go into an industry that doesn't seem "sexy" just because it's not sexy. There's always a way to create an impact for someone, whether it's a small business or a huge corporation. I think it's really telling what we've done here at Cents on an impact and community level. So, I would say, don't be naive just because you think laundry is unsexy or because the industry doesn't make sense to you.
Q. What are a few words that you live by?
You have to credit my mom for this because I love her, but it's "always be respectful and always be kind until someone gives you a reason not to be." That's pretty straightforward. I love the word "kind" and I think it's a really powerful word. So until someone so someone gives you a reason not to, then why would you not be?
Looking to join a team of innovative, dynamic, and creative individuals? Check out our careers page to learn more about us and view our open positions! We're growing fast and are always looking for new talent to help us revolutionize the laundry industry.