At a Glance
Ariana Roviello owns and operates Laundré, which has two neighborhood locations in Mission and Western Addition, San Francisco. In 2020, she decided to add pickup and delivery to her laundromats to better serve her customers, becoming an early adopter of Cents Dispatch. Since then, Laundré has grown into the epitome of the modern laundromat. Ariana's dedication to eco-friendly, high-quality machines and materials has paid off by creating a second-to-none laundry experience utilizing the latest and greatest industry developments.
By adopting the Cents platform, Ariana has been able to grow her business by adding pickup and delivery as a staple service.


About Laundré
Ariana always had big plans for Laundré. When she opened the first location in 2017, she felt that, while pickup and delivery was a great premium service, it was too expensive to invest in immediately. In order to run a pickup and delivery service, laundromat owners have to buy and maintain vehicles, hire drivers, and carefully curate routes to make sure that every customer gets their clothes back in an orderly fashion. And you need redundancies, too — if your driver calls in sick, you have to be able to pick up the slack or you'll lose business. For those reasons, Ariana focused on building a modern self-serve laundromat with state-of-the-art machines, card readers, and sustainable practices (like using eco-friendly soap).
And she was highly successful! Ariana's high-end laundromat was never lacking in customers. Laundré performed so well, in fact, that Ariana opened a new location in 2020. The second laundromat is run with the same laser-precise vision that Ariana perfected, and—while we didn't get a yes or no answer—it shouldn't be surprising to find out that she has plans for a third if things keep going the way they are.
The Problem
When Ariana started Laundré, one of her biggest pain points was the lack of a reliable POS system. While the team excelled, the limitations of available solutions held the business back.
"When we first opened, we were literally using pen and paper to process our wash and fold," Ariana said, "which wasn't sustainable."
Wrinkles formed around not only running the day-to-day business but also expanding the laundromat's services. The existing software "wasn't intuitive," Ariana said, "which made it hard to train staff." Challenging training processes led to employee errors, which led to poor customer experiences.
"We also didn't have great reporting options, so it was hard to see how the business was doing from a high-level perspective."
Frustrations grew as Ariana and her team observed other types of businesses that had comprehensive, industry-specific systems. "Laundry was so far behind," she said.
Nevertheless, Ariana still moved forward, opening her aforementioned second location without much technical assistance.
Twice as nice
The second location was opened in 2020 when the pandemic unfortunately began. Due to the need for socially-distanced options and customer demand, Ariana wanted to add pickup and delivery to her offerings, but she needed a better system than a van and a list. Operating vehicles and managing drivers is both complicated and expensive, especially up front, and it would only compound the problems Laundré was experiencing due to their unreliable POS.
What Laundré needed was a software solution that could "keep up with how we wanted to modernize," Ariana said. "When Cents reached out to us, I couldn't have said yes quick enough."
The Decision & Solution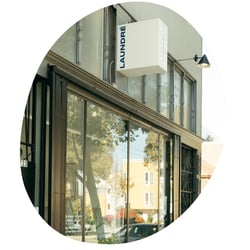 When opening a new location, you want to hit the ground running. Laundré started using Cents right after Ariana opened her second location, which helped it springboard to success in record time.
While Cents was relatively new at the time, Ariana saw the potential to better manage her businesses and add pickup and delivery services via the gig economy, which saved her from the high and often risky cost of buying vehicles and hiring drivers without knowing exactly what demand would look like.
"We've never had a great standard for POS," she said, "and Cents has been really valuable for us."
No fleet? No problem
Specifically, Ariana made use of Cents Dispatch, which focuses on bringing in the gig economy to support pickup and delivery services. This opened a myriad of doors for Laundré, including:
Ease of deployment — Cents' partnership with DoorDash made setup simple. Since DoorDash handles the vehicles and the drivers, Ariana didn't have to take the massive financial risk of investing in a delivery fleet.

Flexibility — Even if you maintain your own delivery fleet, the ability to toggle between them and gig economy drivers adds resiliency to the business. If a driver gets sick or has an emergency situation to take care of, Cents Dispatch allows operators to toggle over to DoorDash drivers to keep customers' laundry going where it needs to.

Simple management — Operators don't have to change their processes to account for Cents Dispatch orders once delivery has been toggled on, which is to say that it doesn't add extra work to the process.
The Outcome
With the Cents platform, day-to-day tasks are easier for Ariana and her team to navigate. Furthermore, the ability to offer Laundré customers benefits such as notifications and text receipts has helped to automate their processes.
"When we launched DoorDash on-demand laundry pickup and delivery service," Ariana said, "It was such a pivotal moment for us as a small operator."
Laundré has expanded its market to new customers and grown its business — two milestones Ariana said are invaluable.
A clean expansion
Laundré can also now serve a much greater portion of its communities. Before implementing Cents Dispatch, each laundromat served a one-to-two-mile radius of customers. Because Cents' solution incorporates gig economy drivers that serve up to a 15-mile radius, Laundré was able to increase its customer base massively. After two years with Cents, Laundré's wash and fold revenue tripled.
Marching to the spin of her own drum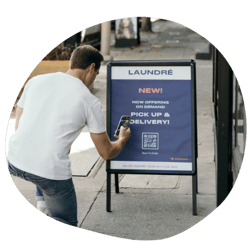 The business value to Laundré is more than an increase in revenue; it's a chance for Ariana to focus on the parts of their business that matter.
Since Ariana could rely on Cents Dispatch to take care of routes and driver assignments, she was able to devote time to building promotions around the new offering that engaged customers and marketed the unique services of Laundré, like its dedication to eco-friendly, high-quality cleaning.
Baskets full of data
Data is also a big factor for Laundré. Ariana can check where her deliveries are at the drop of a hat, and the data that the Cents platform collects gives her insights into the local market that she can apply to learn more about what her customers need. And the continued rollout of new features only adds to that.
Ariana is excited by the prospect of having more data to work with; the more information a laundromat has about its customers, the better it can meet their needs.
Go figure
Here are a few key figures from Laundré's partnership with Cents.
Growth — We can't claim all of the credit for it, but Laundré is gaining between 40-50 new customers per month.

Cost — We're not going to flaunt any concrete figures, but Cents charges a flat fee for services instead of taking a percentage away from Laundré's (or anyone else's) profits.

Gig Economy — While the specifics are decided by business owners and subject to promotions and campaigns, Ariana subsidizes some of the cost incurred by gig economy drivers in order to keep her pricing competitive in the area.
Dressed in success
Ariana also commented on the value of choosing a partner that listens to laundry operators and makes a point of developing the features that they need in the industry, saying that "[Cents'] customer success team is the best I've ever worked with."
In short, Cents Dispatch has enabled Ariana to focus on making her laundromats the best they can be while opening up new revenue streams.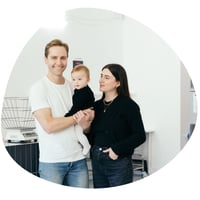 The Future
Currently, Ariana's business is growing quickly with the help of Cents Dispatch, and that's how she plans to keep it going. Now that she can rely on Cents' solution to help her automate route management functions, she has more time to spend on building a better (and maybe another) laundromat. And for Laundré, that means making the highest quality laundry experience possible.
"Laundry was overlooked for a long time, so it's nice to see that people are paying attention and realizing the growth potential for the industry."
- Ariana Roviello
Start making Cents of the laundry business
Partnerships like the one we've developed with Ariana and her team are what make these us and them successful, and we're eager to bring more benefits to more laundromats across the U.S. That's right: this part is about you. If you'd like to learn more about Cents' platform, Cents Dispatch, or any of our services, schedule a demo with us today.