2 Boys Laundromat provides wash & fold, dry cleaning, and pickup and delivery services for residential and commercial customers in Hudson County, New Jersey.
2 Boys has been offering dependable, on-time, affordable laundry services since 2009. They are committed to bringing unique, reliable, stress-free weekly laundry services to their customer's doorstep. As a result, they are dedicated to helping their community maintain a healthy lifestyle balance by removing laundry from their to-do list.
Within the past nine months, 2 Boys Laundromat has been able to improve their operations and increase revenue by implementing Cents' all-in-one platform.
The Problem
"When we first started our business, we were using pen and paper to process all of our orders." Felix owner of 2 Boys Laundromat explained.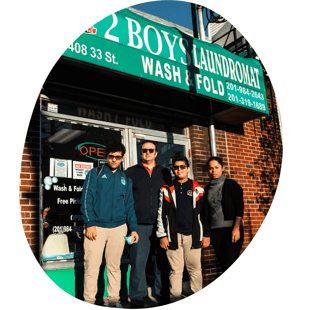 Before signing on with Cents, streamlining systems and managing the business' growing service offerings became increasingly difficult. Much of the employees' time was taken up by processing payments, taking pickup and delivery orders by hand, and trying to calculate the business's total revenue. 2 Boys Laundromat was looking for a solution that would allow them to spend more time doing tasks that couldn't be automated with a laundromat management platform, and more efficiently manage their business overall.
"With Cents, everything is completely different. You can pick up the phone and someone will always answer" said Felix.
The Solution
2 Boys Laundromat integrated Cents into their operations in May of 2021 when they discovered that it was one of the only laundromat management platforms that would support on-demand pickup and delivery services utilizing the gig economy.
"We have been doing laundry pickup and delivery for about 10 years. Once I heard that Cents offered a pickup and delivery management feature, I was sold. All of the scheduling and customer interaction is done within the software. It's easier to offer this service to my customers than ever before" said Felix.
The Outcome
With Cents, Felix has been able to increase his store's customer base and reduce turnover with the simplified pickup and delivery feature.
Felix explained, "The customer is required to pay in advance, and they also get notified when their laundry is arriving with an ETA which streamlines our processes in all areas. Because of the text notification system, the customer knows when to expect us. We have seen an increase in order volume and revenue."
Additionally, Felix has been able to improve and simplify his customers' experience by having an intuitive system to manage orders. Now, his employees can take back their time with a self-service flow that allows his customers to operate their machines and choose their laundry options themselves upon arrival.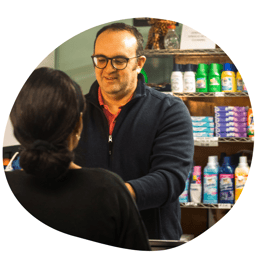 Felix said, "One of the benefits of Cents is the constant updates and new features on the software. This system has been a game-changer for everyone involved."
2 Boys Laundromat has been able to further improve business efficiency, create a simplified user experience and increase their customer base by using Cents' all-in-one platform.