At a Glance
Waleed Cope, a second-generation laundromat owner, converted his laundromat into a specialized pickup/drop-off and delivery operation called The Soap Box. Initially, The Soap Box required a dedicated fleet of drivers, several POS solutions, and lots of manual labor. By switching to Cents, they were able to save money using drivers in the gig economy, consolidate all of their data onto one platform, and increase revenue by expanding their service area. The Soap Box is thriving and continuing to find new ways to wow customers, in part thanks to their partnership with Cents.


About The Soap Box
The Soap Box is a full-service laundromat offering wash-dry-fold, dry cleaning, sneaker cleaning services, and more that has been servicing the greater Brooklyn area since 2015 with the belief that for people, "life is good when you stop doing laundry." They are committed to offering their customers the best quality of service and bringing their clothes back fresh and clean.
The Soap Box might have officially opened in 2019, but this local Brooklyn laundromat has deep roots. The Soap Box is an evolution of a family-owned laundromat that was passed down to Waleed in 2015 and is now recognized as one of the best laundry service facilities in New York City.
Originally, The Soap Box was a separate business opened by Waleed across the street from his laundromat focused entirely on drop-off and pickup and delivery services. Waleed and his wife promoted the brand on social media, and soon they went from handling the delivery themselves to hiring several drivers to keep up with demand.
When business at The Soap Box continued to ramp up, Waleed decided to close the old laundromat and concentrate his efforts on the delivery side of the business. Since then, Waleed has added sneaker cleaning and has additional plans for expanded services and continued growth.
The Problem
The Soap Box runs a tight operation in just 700 square feet. Needless to say, mobility is an important component in the business' operations and success. When processing high volumes of laundry and servicing customers from all around the city in one store, maximizing efficiency is crucial to meeting customer demands and upholding a higher quality of service.

Despite its success and growing customer base, The Soap Box struggled with difficulties stemming from the use of several different, non-integrated management systems for things like payments and order tracking, and high operating costs around delivery.
Too many solutions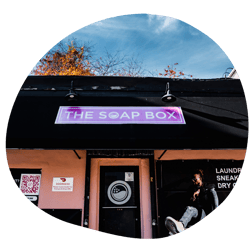 Prior to partnering with Cents, The Soap Box was utilizing three separate technology platforms that did not fully integrate with one another. With disjointed processes and the need for manual management tasks caused by inadequate POS management, and payment solutions, servicing their customers was challenging.
However, the use of multiple solutions wasn't an issue of poor decision-making — Waleed and his team tried numerous systems and actively searched for one that fit all of their needs, as well as a few "wants" that would enable further business growth. The problem was the lack of an all-in-one platform designed specifically for the laundry industry. Several of the solutions that Waleed had either used or demoed focused solely on Point of Sale (POS) or inventory management, which meant that Waleed, like many other laundromat owners, had to juggle several platforms and manually transfer data from one platform to another.
"We were using three different systems to manage our entire store. It was a big pain. One POS for walk-in orders, one POS to process credit cards, and another POS for delivery services. It created a lot more work for our team in terms of double entry and redundancy," Waleed explained.
Before signing on with Cents, streamlining systems and running reports to calculate the business's total revenue seemed impossible without the investment of time for manual input and calculation. The Soap Box needed a solution that would allow them to easily process orders, support multiple service options, and be able to easily view and understand the metrics of the business, all in one comprehensive solution.
Lack of support for delivery
Traditionally, drivers for laundry pickup and delivery operations run a set route, like a school bus. If there isn't room for your order on the route or if you can't get everything ready in time for them to be there, you have to wait until the next driver sets out.
This creates several challenges for laundromat owners and operators to overcome. For The Soap Box, the limited range available through their self-run delivery services was a major challenge. The Soap Box could only send drivers a short distance due to the constraints of routes, fuel costs, and practicality; leaving the business unable to tap into new markets and audiences that were local, but just outside of its reach.
The Decision & Solution
The Soap Box integrated Cents into their operations in January of 2021 when they knew that a change in its operations was imperative. Cents' offerings appealed to the business because of its single platform, delivery solutions, and features, which were specifically designed to meet the unique needs of laundromat operations.
An all-in-one solution tailored to laundromats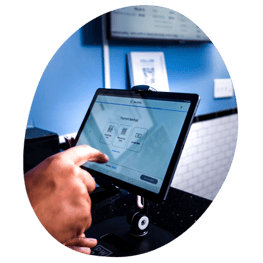 A major pain point for Waleed was the myriad of problems with the POS solutions that most industry tech is focused on. Cents stood out to Waleed in part because it's not just a POS system, it's a comprehensive business management tool.
Furthermore, other solutions that The Soap Box tried were built around an app. Because half of an app transaction involves the customer accessing the application themselves, The Soap Box would lose customers who didn't have the most recent update or operating system and blamed the business. Since Cents handles transactions on the web, these problems went away when these processes were implemented.
Ease of use was another major factor in the decision to switch to Cents. When initially evaluating Cent's solution, Waleed handed one of his employees the controls without giving them any instructions, and they were able to figure it out quickly. Simplicity of use for both employees and customers is a big value add for The Soap Box.
Waleed continued by saying, "Cents has a great user interface and experience. I showed the POS to one of our store managers, Shawn, and she picked up the tablet and looked at it and said, 'Oh yeah, this is way easier than anything that we've used in the past.'"
The gig economy to the rescue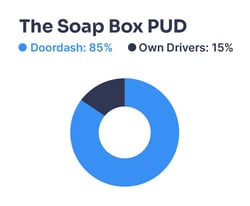 With Cents, Waleed was able to take advantage of the gig economy to improve The Soap Box's pickup and delivery capabilities. Because Cents partners with DoorDash for pickup and delivery services, Waleed was able to reduce expenses. Maintaining your own fleet of delivery cars includes paying for gas, insurance, and more. And money saved is money that can be put back into the business and its people.
Partners in dime
Another major factor in Waleed's decision to work with Cents was the customer service value. Of the numerous systems that The Soap Box experimented with, Cents was the only one that had 24x7, dual language voice support from human agents. Waleed recounted that Cents' outstanding support is part of what separates them from other offerings.
He recalled two instances, one about a malfunctioning credit card reader and another about updated software that wouldn't run on the computer Cents had supplied. In both cases, Cents immediately sent The Soap Box brand new, functional equipment, free of charge. The laundry business is all about customer service, and Waleed feels that Cents' approach is well-aligned with the values of owners and operators in the laundry industry.
The Outcome
With Cents, Waleed has been able to train his employees quickly, simplify his processes, and integrate the gig economy into his business. While experiencing significant growth with pickup and delivery services, Waleed can now spend more time focusing on expanding his sneaker cleaning services and building relationships with new and existing customers.
And, by having an intuitive and simple process for reporting, operations have become more manageable for Waleed and his team. Access to automatic processes such as pickup and delivery live links sent to customers has increased overall volume.
Waleed said: "Our customers are using pickup and delivery more often, and they love it, especially with dry cleaning. Typically, they have to wait for us to count through their items and give them an ETA, but now we can send them the link where they can verify everything."
Additionally, using DoorDash expanded The Soap Box's reach and reliability. Since drivers in the gig economy don't follow preset routes, Waleed's customers no longer have to be in the right place at the right time to have their laundry picked up; each order is handled on-demand, which makes for a smoother customer experience. Furthermore, the integration with DoorDash increased the service area of The Soap Box to a 15-mile radius, which brought in a large volume of new customers.

The Soap Box has been able to consolidate their processes into one system to reduce redundancy, better manage service offerings, and significantly increase revenue.
"The Cents team sets you up for success. They have been super responsive, and I've dealt with a ton of SaaS products, but Cents takes the cake," said Waleed.
Making Cents of it
Cents helped The Soap Box reduce business costs and get more value out of their resources. By using the gig economy for their services, they were able to move away from operating and maintaining a fleet of drivers. They were also able to expand their range of service, bringing in more customer. By getting a "business in a box" model, they were able to consolidate their data in one platform as opposed to paying for multiple solutions and then manually pulling out pertinent information.
The Future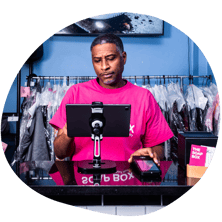 When people hear the word "laundromat," they usually make the assumption that there isn't a way for the business to grow or evolve outside of being a building full of washing and drying machines, but that isn't true. A laundromat can add all kinds of services. The Soap Box has broken into sneaker cleaning, and will soon begin to handle shoe repair, as well. Waleed's goal is to "service the whole closet," and The Soap Box is nearly there.
Getting a Cents for What's Next
Waleed's satisfaction with the Cents platform doesn't stop at what he's using it for now; as a businessman, he looks ahead to stay on top of the game. A major factor in his decision to stick with Cents comes from the clear growth strategy that Cents has. The features that Cents is rolling out, like engaging with more gig economy platforms and integrations with other leading business platforms like Gusto. Waleed explained these indicators prove Cents plans to keep improving as opposed to similarly priced platforms that only provide POS functionality laundromat owners will have to switch off once they become outdated.
As a savvy entrepreneur, Waleed has exciting plans for the future. The Soap Box added sneaker cleaning to their repertoire of services, and it has been a roaring success. So much so that Waleed has also made the move to partner with local cobblers to add a dress shoe repair service that will launch soon, which places The Soap Box right where Waleed wants it to be: one step closer to being able to "service your whole closet."
The Soap Box is thriving in Brooklyn, and we are striving to be the partner for them and other laundromats across the country.
"Product, yes. People, yes, twice."
— Waleed Cope
Convinced that Cents is almost as good as having someone else handle your laundry? Reach out to us to schedule a demo to discuss your specific pain points and what we can do to help you grow, manage, and understand your laundromat.