The Soap Box is a full service laundromat offering wash-dry-fold, dry cleaning, sneaker cleaning services, and more. Their mission is to make you look "gooder!"
The Soap Box has been servicing the greater Brooklyn area since 2015 with the belief that for people, "life is good when you stop doing laundry". They are committed to offering their customers the best quality of service and bringing their clothes back fresh and clean.
Over the past year, The Soap Box has been able to significantly increase revenue and streamline operations. They have been able to expand service offerings, implement gig economy Pickup and Delivery, and better service their customers.
The Problem
"We were using three different systems to manage our entire store. It was a big pain. One POS for walk in orders, one POS to process credit cards, and another POS for delivery services. It created a lot more work for our team in terms of double entry and redundancy," Waleed, owner of The Soap Box explained.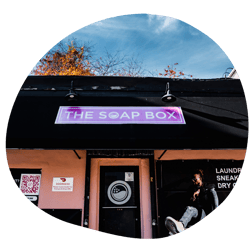 The Soap Box runs a tight operation in just 700 square feet. Needless to say, mobility is an important component. With the three platforms that The Soap Box was previously operating from, the entire team was on-top of each other and servicing their customers became challenging.
Before signing on with Cents, streamlining systems and running reports to calculate the business's total revenue seemed impossible. The Soap Box was looking for a solution that would allow them to easily process orders with one system, support multiple service options, and be able to easily view and understand the metrics of their business.
The Solution
The Soap Box integrated Cents into their operation in January, of 2021 when they knew that a change in their operations was imperative. "I've either demoed or used almost every laundry POS software platform, and I've never had support like I have had it at Cents," said Waleed.
Waleed continued by saying that "Cents has a great User Interface and Experience. I showed the POS to one of our store managers, Shawn and she picked up the tablet and looked at it and said, "`Oh yeah, this is way easier than anything that we've used in the past.'"
The Outcome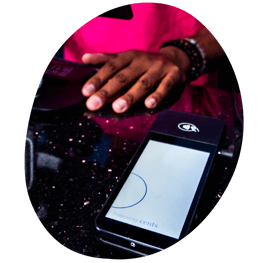 With Cents, Waleed has been able to train his employees quickly, simplify his processes, and integrate gig economy into his business. While experiencing significant growth with Pickup and Delivery services, Waleed can now spend more time focusing on expanding his sneaker cleaning services and building relationships with new and existing customers.
Additionally, by having an intuitive and simple process for reporting, operations has become more manageable for Waleed and his team. Access to automatic processes such as "Pickup and Delivery live links" sent to customers has increased overall volume.
Waleed said: "Our customers are using Pickup and Delivery more often, and they love it, especially with dry cleaning. Typically, they have to wait for us to count through their items and give them an ETA, but now we can send them the link where they can verify everything."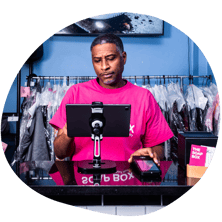 The Soap Box has been able to consolidate its processes into one system to reduce redundancy, better manage service offerings and significantly increase revenue.
"The Cents team sets you up for success. They have been super responsive, and I've dealt with a ton of SaaS products, but Cents takes the cake," said Waleed.
Learn more about how you can grow your business by getting our exclusive whitepaper, free for a limited time: The Three Pillars of Laundromat Business Management.