About Happy Bubbles
Happy Bubbles Laundromat is a full-service laundromat with over 90 machines, 60 washers, and 32 dryers. They offer wash-dry-fold, pickup and delivery, and self-service laundry to residential and commercial customers in Clearwater, Florida.

Happy Bubbles has been offering 24-hour, state-of-the-art laundry services since mid-2021. They are committed to bringing a comfortable, clean, and convenient environment to their customers. As a result, they are dedicated to providing their customers with high-quality services and an incredible customer experience to make doing laundry easier.

Since switching to Cents, Happy Bubbles has been able to streamline operations, improve the employee and customer experience, and increase pickup and delivery revenue.
The Problem
"Happy Bubbles is run by the employees," Jeff Sikorske owner of Happy Bubbles explained, "I'm an absentee operator most of the time. I'm either in Tampa, which is about 40 minutes away, or North Carolina, which is 10 hours away."
Happy Bubbles was having difficulty keeping track of all the paperwork, receipts, customers, and sales tax reporting. Everything was manual, pulling out 30-day old receipts and calculating the sales tax they would have to pay by hand. Jeff and his manager, Daisy, spent most of their time keeping track of the paperwork, taking pickup and delivery orders by hand, and trying to calculate revenue. It was time for a change.
The Solution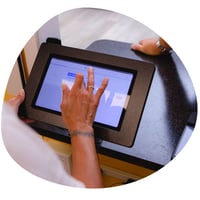 Jeff was looking for a solution that would help them stay organized and would be easy for the team to learn. He was also looking for a platform that had pickup and delivery capabilities to help make the process easier for them and their customers.
Happy Bubbles integrated Cents into their operations when they discovered that their platform had all the reporting capabilities Jeff was looking for, it utilized the gig economy for pickup and delivery, and it was easy for his team to learn.
"In the state of Florida, we have sales tax," said Jeff, "We have to pay monthly or quarterly, depending on how you're set up. Before, we had to pull out all the receipts for 30 days and figure out how much we made to pay the sales tax. Cents makes it easy because all I have to do is pull up one report, then just take that and use it to calculate the sales tax."
"Every step that is being done in the wash and fold process, customers know about," said Daisy, Manager at Happy Bubbles, "We send out the first text to let them know it is in the system, and then when it's ready for them to come get it. We get to text them, and that's great."
The Outcome
With Cents, Jeff has been able to boost their returning customer base, average number of visits per month, and increase revenue.


Jeff explained, "I would recommend Cents to anybody who wants to stay organized. It's an easy system to learn. People of all levels of computer backgrounds can use it. We have people who speak different languages that can figure it out, so it makes it very easy to go through the process."
Being a remote-based owner and operator, Jeff can also monitor and manage his store's operations whether he's in Tampa or North Carolina. He can calculate revenue and maintain state tax requirements without having to visit his store.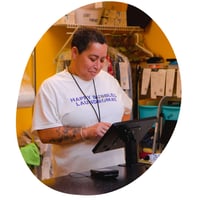 Additionally, for managers and employees like Daisy, Happy Bubbles has been able to improve and simplify the experience by having an intuitive system to manage orders. Now, they can streamline operations with a wash-dry-fold and pickup and delivery process that simplifies communication with customers.
Daisy said, "[Cents] has made it a lot easier for us and I think a lot easier for our customers."
Happy Bubbles has been able to simplify business operations, improve the customer experience, and increase revenue by using Cents' all-in-one platform. Contact us today to learn more about how we can help transform your laundry business!