About Fresh Laundry & Cafe
Fresh Laundry & Cafe is a full-service laundromat and cafe in Gainesville, Florida. They offer self-service washers and dryers, wash-dry-fold, pickup and delivery, and a fully-functional cafe that provides customers with fresh coffee, tea, smoothies, local bakery items, and light casual food.
Since opening in April 2022, Fresh Laundry & Cafe has been a popular place because of its clean, 6,000-square-foot facility and incredible staff. Owner, Maritza Padgett, is committed to working with small, local businesses to provide her customers with a location that brings their community together.
On top of her cafe where customers can get food and drinks, she has also created a literacy zone in partnership with the LaundryCares Foundation for a spot where kids can read and play.
Partnering with Cents has allowed Martiza and her team to manage their pickup and delivery service efficiently, seamlessly operate both the laundromat and cafe, and grow their business to be one of the most popular laundromats in the Gainesville area.
The Problem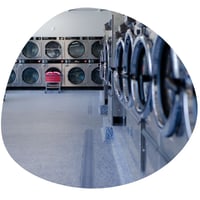 When deciding where to open a laundromat, Maritza was looking for a centralized location that provided easy access to the local community and students at the University of Florida.

When Maritza first saw the location for sale, she knew it was the perfect spot for her laundromat, but she was a little hesitant about the size of the building — it was 6,000 square feet!

At first, she wasn't sure what she would do with all that space. When brainstorming ideas, an old dream came to mind: she had always wanted to own a coffee shop.
But, in order to operate both a laundromat and a coffee shop, she needed a point of sale and a business management system that would be able to handle both businesses efficiently. The system had to keep her wash-dry-fold and pickup and delivery customers separate from the customers that ordered from the cafe. She would need to be able to keep track of the laundromat and cafe's financial data, inventory, and customers without creating more manual work for her and the team.
The Solution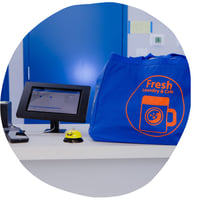 Maritza wanted to find the best solution for her laundromat and cafe before their grand opening in April 2022. That's when she found Cents.
"Cents has really thought of a lot of details when operating two businesses," says Maritza, "So it's really, from a business management point of view, brilliant."
The month before opening the laundromat, she decided a partnership with Cents would help her accomplish her dreams. Having a system in place would make opening the location run smoother if the employees knew how to operate the management system once the business was up and running.
The Outcome
Fresh Laundry & Cafe is a top-rated laundromat in Gainesville with over 77 positive reviews on Google. Upon their grand opening, they even received recognition from the local newspaper for the unique business that Maritza has started.
"The Cents POS system has been really seamless in running both the laundromat wash and fold as well as the cafe. Because Cents has integrated an inventory system, I can track my cafe items separately from my wash and fold items. I can track my financial day-to-day for the cafe separately from my wash and fold customers as well."
Since opening, Fresh Laundry & Cafe has seen tremendous growth. Their pickup and delivery and wash-dry-fold orders continue to grow, their average order value has nearly doubled month-over-month, and almost half of their customer base are return customers.


Setting your business apart from the competition by adding unique services can be a challenge, but with an all-in-one business management system like Cents, we help relieve some of those challenges. Schedule a demo and talk with our team to learn how we can help improve operations at your laundromat!