This month's employee spotlight features Rotem Elbaz, our rockstar Customer Success & Onboarding Specialist! She has been an incredible asset to our team and a fan favorite among our operators. We spoke to Rotem to learn more about why she started with Cents, how being an attorney almost mirrors her role in customer success today and her past in the Israel Defense Forces.
Q. What gets you out of bed every morning?
My daily motivation is knowing that I get to work with amazing people and an amazing team at a company that gives me the opportunity to make a huge impact in the industry.


Q. What makes Cents different from other places you've worked?
Before working at Cents, I was a corporate attorney, so it feels like I took a 180 in the best way possible. Cents provides the entire package: amazing co-workers, great company culture, incredible work environment. It doesn't come close to comparing it to anywhere I have worked in the past. Even down to the little things like the monthly team bonding events that we do, it puts an emphasis on our company culture and I think that is vital when on a job search.


Q. What has your career path looked like?

I have a degree in Law and Business and worked as a Corporate Attorney for 3 years. During COVID, I decided that I wanted to make a shift in my career and focus more on the business side of businesses as opposed to the legal side - and that's what brought me to Cents!

Q. What is your proudest career moment and why?
I can't think of a single moment, but I am extremely proud to be a part of Cents and the customer success team. I love hearing such positive feedback from our operators about our customer service and seeing their excitement when they start using the Cents POS. I can truly tell that it is making a difference in their life and business.


Q. What advice would you give to your younger self?
Be confident in yourself and what you bring to the table!


Q. What is your secret to making progress each day?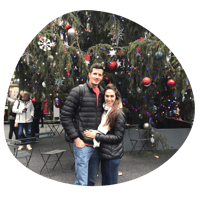 Creating great personal relationships with operators and knowing that we do really makes a difference for them and their business!


Q. A typical weekend for me is…
My husband and I recently moved to Manhattan so we love exploring the city. I love working out, meeting up with friends for coffee, and roaming around the city! We're soaking it all in and enjoying every part of NYC life.


Q. If you could switch your job with anyone else within Cents, whose job would you want?
Anyone on the Product Team! I've always been interested in the inner workings of our product since hearing feedback from the customers is a huge part of my job. From day one, I absolutely loved Cent's product and what we can offer this industry.


Q. Tell us something people don't know about you
Served in the Israel Defense Forces (IDF)

I'm left-handed


Q. What advice do you have for prospective Cents candidates?
Be yourself! We have such an amazing team and the fit will feel natural if it's meant to be. At the end of the day, you want to be able to say that you love where you work and Cents will 100% be able to deliver in that category.


Looking to join a team of innovative, dynamic, and creative individuals? Check out our careers page to learn more about us and view our open positions! We're growing fast and are always looking for new talent to help us revolutionize the laundry industry.