Running a laundromat can be a lucrative business, but it's important to make sure that you are providing the best possible services to your customers. In this blog post, we will discuss 10 ways that you can improve your laundromat services to attract new customers and make your business more successful!
1. Improve the quality of your machines.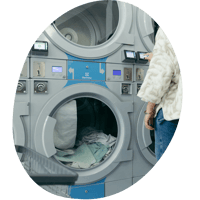 One of the core keys to success in business is consistency in experience. When customers know that they can expect a quality experience with reliable machines every time they come to your laundromat, they will never have a reason to leave.
Make sure that your machines are well-maintained and regularly serviced. This will ensure that they are always running smoothly and efficiently.
2. Improve the quality of your detergents.
The quality of your detergents and other laundry products is also important. Many customers are looking for environmentally-friendly options, name-brand detergents, or hypoallergenic solutions.
3. Improve the quality of your washing and drying process.
If you're offering self-serve laundry, educating your customers on the best ways to clean their clothes with your machines will not only give them a better experience, it will save you money and time by making your laundromat more efficient and better maintained.
If you're offering a laundry wash and fold service or a pick-up and delivery service, improving the quality of your washing and drying processes will, again, ensure your customers receive their clothes fresh and clean, but it will also help your laundry operation run more efficiently.
4. Improve customer service and communication.
One of the most important aspects of any business is customer service, and laundromats are no exception. Making sure that your customers feel welcome and comfortable in your store is essential to keep them coming back.
You can also utilize a business management software like Cents, or text/email marketing software to communicate with your customers about the progress of their order. By making sure that your customers are always well-informed, you can avoid any confusion or frustration that could lead to a negative experience.
5. Improve the appearance of your laundromat.
Another important aspect of customer service is making sure that your store is clean and presentable. Sometimes "putting lipstick on the pig" can be a great way to give your coin laundry a fresh look and feel. Finally, you should also take a look at your branding and make sure that it's consistent throughout your store.
6. Improve the layout of your laundromat.
The layout of your store can also have a big impact on the customer experience. If your store is cluttered or poorly designed, it can be difficult for customers to find what they're looking for or even know what services you offer. Taking the time to improve the layout of your store can make a world of difference.
7. Improve the speed of your machines.
One of the most important aspects of a laundromat is the speed of the laundry equipment. If your machines are slow, it can be a major inconvenience for customers. There are a few things you can do to improve the speed of your machines:
Make sure that they're properly maintained

Upgrade your laundry management software. A good software will allow you to optimize your machines for speed and efficiency. Cents' platform integrates with your machines to deliver insights into their performance and efficiency.

Make sure that you have enough machines for the number of customers you have.
8. Improve the variety of services that you offer.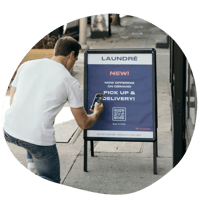 You can also improve the quality of your services by investing in some new equipment. For example, you can purchase a steam press to improve the quality of your dry cleaning services. Or you can invest in a new washing machine that uses less water and energy. Adding larger machines can help your customers with larger loads get done faster. Or, adding an Ozone sanitization system can cater to customers that want to make sure their laundry is thoroughly sanitized.
9. Improve the accuracy of your billing processes.
Another important aspect of your coin laundry business is billing. If your customers are constantly being overcharged or billed for services they didn't receive, it will reflect poorly on your business. Inaccurate billing can also lead to customer frustration and cause them to take their business elsewhere.
10. Add new services to your business.
As we mentioned before, one great way to improve your laundromat services is by adding new services to your business. This could mean adding a drop-off laundry service (also known as a wash, dry, fold service, wash-dry-fold, wash and fold, or fluff and fold laundry service) or a laundry pick-up and delivery service to your self-serve laundry business. These can add major revenue streams to your laundry business.
How to Start Wash and Fold Services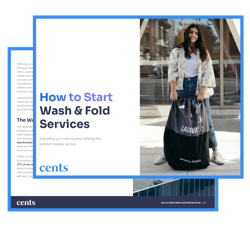 Offering wash and fold services can help increase revenue, tap into new customer markets, and get an edge over competitors. Download our whitepaper to learn more about the growing market and the essential steps to getting started.