Across many industries, customers are expecting more and more flexibility from businesses, and the laundry industry is no exception. Depending on your area of operation, customers may expect you to offer certain payment types that extend beyond the standard coin-operated model. Catering to different customers that prefer different payment options can help grow your margins by being flexible and removing any tech limitations. But, how do you determine which ones you should be offering?
In this blog, we'll take a look at the different payment types laundromat owners can potentially offer and give insights into how owners can determine which payments will best serve their customers, giving owners the greatest return.
Coin-Operated
For self-serve laundromats, coin systems have been the only option for years when it comes to vended laundry. Even with other payment options available on the market, coin systems still command a major share of the laundromat business. According to the Coin Laundry Association's recent survey, 54% of laundromat owners only offer quarter-operated laundry machines. Digging for quarters to do laundry has always been a pain point for many laundry-doers, but it has also been a necessary activity.
Coins aren't just a pain point for customers either. Coin-operated laundromat owners have had to deal with heavy, awkward bags of quarters that need to be toted to the bank. Some have even taken up the process of rolling quarters themselves or hiring services to collect and deposit quarters for them.
Coin-operated systems have been part of the laundry industry for decades, and as long as there are quarters circulating, it will remain that way. But, now that there is more technology in the laundry industry, coin-operated laundry machines are no longer the only option.
Credit and Debit Card Readers
New technology in the last few years allows your laundromat to accept credit and debit cards for laundry payments. This can include kiosk systems and in-machine card readers. More recently, there are some readers that accept payment as swipe, EMV chip, and even just tap.
There are a few advantages to accepting cards in your laundromat. With a card, operators have real-time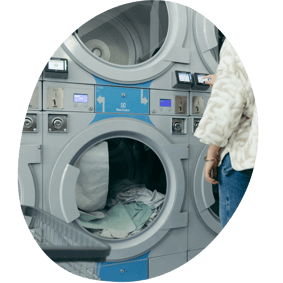 records of every transaction and, in some cases, funds can be made immediately available depending on payment system providers.
The best way to determine whether or not you should provide customers with the option to pay with a credit or debit card is to think about one thing: your customers.
How are they paying for goods and services in other areas of their lives?

How do they pay for groceries and home goods at stores?
More likely than not, your customers are using a variety of payment methods from cash to credit and debit cards. Providing them with this option at your laundromat can make it easier for your customers to do laundry without having to dig through couch cushions or run to the bank.
Laundromat Card Payment Systems
Laundry card systems provide an alternative payment method for customers and are meant to build customer loyalty. These cards are typically prepaid or refillable cards that can only be used at your laundromat, encouraging customers to return to your business to use the full balance. Laundry card systems can operate in a variety of ways:
Prepaid cards

Cards refilled by mobile device

Cards refilled on a kiosk
Using a card-swipe, laundry card systems allow customers to pay at the machine. It can provide customers with a secure way to pay while also giving owners and operators real-time information about their balances.
Mobile App and Virtual Wallet
Like credit and debit cards, smartphones are everywhere and most have the ability to contain a "virtual wallet" where they simply tap the reader with their phone and pay for laundry. There are also products on the market that allow customers to use technology where they pay for their laundry with a specific application.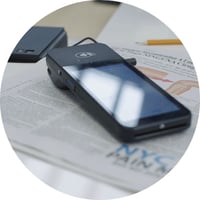 Mobile payments have very similar advantages to credit or debit cards like being able to see the transaction report instantly and immediate availability of the funds. Before investing in these types of readers, you'll have to analyze the benefits it poses to your customer demographic and how often they utilize these types of payment methods for other goods and services.
Tools to Improve Business Operations
Many of our customers have found success in offering dynamic payment solutions to support different segments of laundromat customers, but owners and operators need to do what is best for their customers. At Cents, we give you the tools you need so you can run your laundromat business how you need to.

No matter which payment method you choose to provide, whether that be only coin or every option we listed, Cents can support your business. Our laundry business management software integrates with our custom payment systems, making it the first true all-in-one platform. Learn more about Cents Connect and our suite of payment hardware.