There are many ways to save money as a laundromat owner and in this blog post, we will discuss some of the best ways to keep your expenses down while still providing excellent service to your customers.
Laundry Equipment
One of the most effective ways to save on operating costs in a laundromat is to use energy-efficient laundry equipment. This can help you save on your utility costs by using less energy, as well as reduce your environmental footprint.
The initial investment in new equipment for laundromat owners can be a big commitment but if you run the numbers right, it can potentially pay off in the end and lower your monthly utility costs.
Switching your old commercial-grade equipment with high-efficiency washers and dryers can end up saving you a lot of money, and it's something your customers will take notice of.
Laundromat Software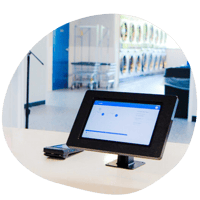 Another way to reduce costs is to take advantage of laundry software. This type of software can help you manage your business more efficiently, and can also provide valuable insights into your customers' laundering habits.
The laundromat industry is seeing a lot of advancement in the past few years when it comes to software to help run your small business. One of the companies leading the way is Cents.
Cents software offers:
Advance POS system

Business management

Machine integration

Pickup and delivery
Cents boasts that using their software can lead to a 25% or more increase in revenue, 75% increase in efficiency, and more importantly to this article, stores can see up to a 99% decrease in lost bags.
That is a solid way to lower your laundry business operating expenses and increase profit margins.
Accounting Software
Accounting software might not seem like something that can save on operating costs but it can save you from future expenses.
A few benefits of accounting software include:
Record keeping

Easier tax season

Future business planning

Financial snapshot
A key benefit for small business owners using accounting software is the ability to be organized come tax season.
Marketing Expenses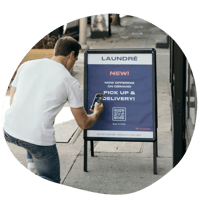 Experimenting and finding the right marketing plan for your store is crucial in lowering the budget needed for marketing. Not all marketing will be effective for your laundry businesses, so finding the right marketing plan can lead to lowering operating costs.
You can also get creative with your marketing and come up with unique ways to promote your laundromat that don't cost a lot of money, like:
Attending community events

Hosting events at your laundromat

Offer incentives for leaving reviews online

Offer coupons

Flyers

Sidewalk board advertising
Tankless Water Heaters
Another way to reduce operating costs is by switching to a tankless water heater. A traditional tank water heating system can be inefficient, often losing a large amount of heat as the water sits in the tank or wasting energy.
Tankless water heaters can save you money in several ways. They're efficient users of natural gas, and usage patterns enable them to save money over time. On busy days, they're only used at the maximum output when needed. When there are few people around and the need for hot water is low, they aren't being utilized as much.
Detergent and Supplies
In addition to saving money on your energy costs, you can also save money on the detergents and other supplies that you use in your laundromat.
There are many ways to do this, but one of the best is to buy in bulk. You can often find good deals on laundry detergent when you buy it in larger quantities and it is easier to keep your laundry vending machines fully stocked, leading to better customer service. It can be an expense up front but worth it over time.
Energy Efficient Vending Machines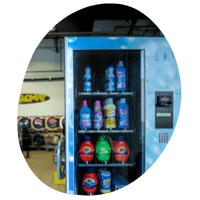 On a much smaller scale than the energy-efficient laundry equipment, add vending machines that are more energy-efficient. If your store has vending machines, switching to more efficient machines can lead to lower utility costs.
Finding any type of savings for laundromat businesses makes a big impact over time.
Operating costs can be a major expense for laundromats, but there are many ways to save money. In this article, we've highlighted some of the best ways to reduce your expenses and keep your business running smoothly. Whether you're looking to invest in energy-efficient equipment or switch to a tankless water heater, there are plenty of options for saving money on your laundromat operating costs.
To learn more about the Cents software and how it can help you save on operating costs, schedule a demo today!