As your laundromat business grows, you may find that you need to hire more staff to keep up with the demand. This can be a tricky decision since it's important to get the right people on board who will help your business grow. In this blog post, we'll take a look at the different laundry business models and when it might be time to add more staff members to your team!
Why Hire More Laundromat Staff
Hiring additional staff is a decision that should not be taken lightly as it can affect your bottom line. With that in mind, here are some factors to consider before taking the plunge:
The type of laundromat business you own

Your budget

Your customer base

Your business goals
If you're looking to hire additional staff for your laundromat business, be sure to weigh all of these factors carefully.
When to Hire More Laundromat Staff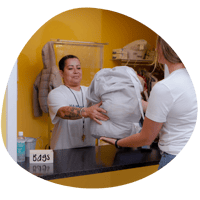 The first decision you'll need to make is what type of laundromat business model you will be hiring for. There are three main types:
Self-Service

Wash, Dry, and Fold

Pickup and Delivery
While most laundromats are self-service, more and more are adding these additional services to increase profits and their customer base.
Self-Service Laundromat
For a self-service laundromat, ideally, you'll have at least one employee on staff during business hours, if possible.
Keeping customers happy with quick resolutions to problems and a clean facility makes for returning customers.
Wash, Dry, and Fold Laundromat
If you're offering wash, dry, and fold services at your laundromat, you'll need at least two employees on staff for optimal efficiency. One employee will be responsible for washing the clothes and attending the store, while the other will handle drying and folding. This will help the whole wash, dry, and fold process move quickly with the best attention to detail.
When the service starts to grow, bringing on additional staff to help with the workload may be a good idea.
How to Start Wash & Fold Services
Offering wash and fold services can help increase revenue, tap into new customer markets, and get an edge over competitors. Download our whitepaper to learn more about the growing market and the essential steps to getting started.
Pickup and Delivery
Finally, if you're offering pick-up and delivery services, you'll need at least two to three employees: one to handle pickups and deliveries, one to do the laundry, and one to attend the store and assist with laundry.
There are great software services to help with your pickup and delivery service that provide a lot of analytics that will help when it comes to staffing decisions.
When to Schedule Your Staff
Once you know how many employees you'll need, you'll need to decide when to staff them.
The best time to hire additional staff is during your peak hours. This will ensure that your customers always have someone available to help assist them and that your laundry business is running smoothly.
Qualities to Look for in New Employees
Once you've determined when to hire, the next step is to find the best employee for every job. When looking for laundromat staff, it's important to find individuals who are friendly and helpful, as they'll be the face of your business.
You should also look for employees who are reliable and have experience working in a fast-paced environment. These qualities will be essential for ensuring that your customers always receive the best possible service.
Training New Employees
Just as important as having a solid hiring process is offering quality training. Your training is what will create great employees that become part of your winning team.
By following these tips, you'll be able to staff your laundromat business effectively and efficiently, turning applicants into great employees who create a great customer experience every day. Learn how a business management system can help you manage employees and improve employee operations at your laundromat.