The possibility for growth in this industry is limitless, but adding commercial services increases the complexity of the business and the need for smart management tools. One thing that's sure to make your life easier and practically ensure your success in scaling your business is upgrading your technology to support your commercial clients' unique needs.
If you're looking to improve commercial laundry operations, streamline processes, and grow revenue at your laundry or dry cleaning businesses, keep reading to learn how adding software can help you achieve your goals!
What is Commercial Laundry Software?
With commercial laundry software, your laundry business can save time, reduce errors, and increase efficiency in your operations. An all-in-one, centralized system is designed to manage all aspects of your laundry business, including tracking customer orders, processing payments, and managing inventory. It can even be used to optimize delivery routes and schedule pickups and drop-offs, allowing you to provide better service to your commercial customers while minimizing travel time and costs.
In addition to its core features, high-quality commercial laundry software includes reporting and analytics tools that provide valuable insights into sales performance. You'll be able to make data-driven decisions, identify areas for improvement, and track your progress over time.
Many laundry management software solutions are cloud-based, which means that businesses can access them from anywhere, at any time. Managing operations remotely has never been easier, which is particularly useful for laundromats with multiple locations or those looking to operate their laundromat remotely.
How commercial laundry software is making life easier for your customers
The laundry industry hasn't been known for its innovation milestones, but that shouldn't stop you from bringing in some new technology to elevate your customer experience! Commercial laundry software has the potential to revolutionize the customer experience in a number of ways:
Easy order placement: Simplify the ordering process for your commercial customers by allowing them to place orders and schedule pickup and delivery times around their schedules.

Real-time order tracking: Customers can track the status of their orders in real time, giving them visibility into the progress of their laundry and the expected delivery time. Picture DoorDash and GrubHub, but for laundry services!

Customization options: Each of your commercial laundry customers has unique needs! A comprehensive laundry software can provide customization options such as selecting specific cleaning instructions and making the service more tailored to their needs.

Accurate billing: Commercial laundry software can generate and track accurate invoices for customers based on the specific services provided, eliminating any potential for billing errors or disputes.
The more inconveniences you can remove from your customers' laundry experience, the sweeter the deal is for them! Commercial laundry software provides customers with a more convenient and personalized experience, making it easier to place orders, track their laundry, and pay their bill.
Exploring the business benefits of commercial laundry software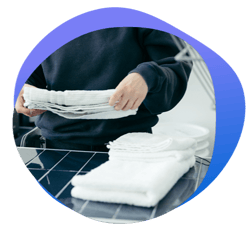 Updating the technology you use to run your laundry operations can be a game-changer for your business. Commercial laundry software can benefit your business in several ways:
Improved efficiency: Automate the many tasks of running a laundry business, like order management, inventory tracking, and billing and invoicing. This can help to save time so you can focus on other areas of your business.

Increased revenue: An all-in-one software can help you expand your services to not only include commercial wash and fold and pickup and delivery, but streamline your processes so you can take on more customers efficiently. It can also help you to optimize your pricing and billing processes so you have the peace of mind that you're charging customers the right amount and receiving timely payments.

Better customer service: No matter how much you sugarcoat it, laundry is a chore, and no one likes chores! With the right software, you can provide better customer service to your client with features like real-time order tracking, customization options, and accurate billing. By easing the friction for your customers, you'll increase satisfaction and loyalty, leading to more repeat business.

Enhanced reporting and data analysis: Get detailed reports and data analysis to make more informed business decisions. This can help you identify areas where you can improve your operations, reduce costs, and increase revenue.

Competitive advantage: Gain a competitive advantage over other laundry businesses that are not using this technology. This can be especially important in a competitive market, where businesses need to differentiate themselves in order to succeed.
Commercial laundry software can help you streamline your operations, increase revenue, improve customer service, and gain a competitive advantage in the market. By leveraging the benefits of this technology, you can take your laundry business to the next level!
More Than Just Clean Clothes: How Commercial Laundromat Software Can Boost Revenue
You may feel apprehensive to make the financial investment into overhauling your laundromat management system, but what if it could make your life easier and bring more money through the doors of your business?
Commercial laundromat software can do just that. By investing in the right management software, you can streamline your commercial laundry operations, gain insight into the business's financials, and ultimately boost revenue.
Upgrading your laundromat software for commercial laundry capabilities can increase revenue in several ways:
Automated day-to-day tasks so you can focus on making money: Automate tasks such as order management and billing, reducing the need for manual labor and increasing operational efficiency. This can help laundromats to process more orders and generate more revenue.

Expanded services: Being able to offer commercial wash and fold and pickup and delivery, which can create additional revenue streams.

Return customers: Improve the customer experience by providing customers with a user-friendly platform to place orders, track their laundry, and receive support. This can help to attract and retain customers, leading to increased revenue over time.

Profitable pricing strategies: Get detailed data on your operations, such as order volume and turnaround time, which can help inform better pricing strategies. This inevitably leads to more accurate pricing and increased revenue.

Enhanced marketing capabilities: With custom branding and targeted marketing campaigns, you can attract new customers and increase revenue.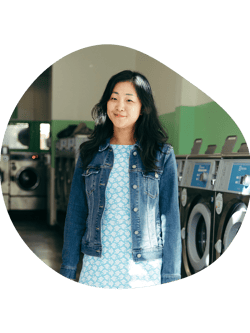 Lily Laundromat is a women-Led San Francisco-based laundromat that has harnessed the potential of laundromat software. Its founder, Lily Li, aimed to keep the community clean and provide an easy laundry experience, but she wanted to take it to the next level.
"My operation was extremely manual and time-consuming and it felt like it was impossible for me to scale. I wanted to expand my service offerings but I knew that I couldn't do it alone," Lily said.
Over time, Lily has been able to scale her business and grow her customer base by integrating with laundromat software and DoorDash, allowing her to offer new services like Pickup and Delivery without requiring complicated logistics like drivers and insurance. Since partnering with Cents, Lily has seen a 20% growth in revenue, streamlined her operations, and now has more time to spend building relationships with her valued customers.
The 3 Essential Features of Commercial Laundry Software
Not all commercial laundry software are created equal! When searching for the right system it's crucial to know what features will truly benefit your business. While there are many different options available, there are three essential features that any good commercial laundromat software should have:
1. Flexible service pricing
Better accommodate different customer needs when it comes to pricing. This can be especially important when different businesses' needs can vary significantly depending on factors such as order size, order frequency, and types of items being laundered.
By offering multiple different pricing tiers, you can easily provide customized pricing plans tailored to individual customers or customer groups. This can help increase customer satisfaction and loyalty by providing a more personalized experience.
By clearly presenting personalized pricing and associated fees, you can build trust with customers and reduce the likelihood of misunderstandings or billing errors.
Pricing tiers can also help you better manage your laundromat's revenue by optimizing prices for different types of orders. This will increase profits and improve overall business performance.
With multiple pricing options, your customers may be encouraged to upgrade their orders to higher tiers that offer additional benefits, such as faster turnaround times or additional laundry services. This allows an opportunity to increase the average order size and overall revenue.
2. Invoicing
Commercial laundry software with an invoicing feature can help you ensure that you're billing customers accurately for the services provided. This can help reduce the likelihood of billing errors, disputes, and delays in payment.

With invoicing features, you can streamline the billing process and reduce the time and effort required to generate and send invoices. This will give you and your employees time to focus on providing quality service rather than on administrative tasks.

The invoicing features in commercial laundry software should be able to track payments, notify you when payments are received, and send automated reminders to your customers when they're late. This way you can effortlessly stay on top of your finances and manage cash flow effectively.

Your commercial laundry software should allow you to create customized invoices that reflect your laundromat's brand and include any special offers or promotions. This helps to increase brand awareness and customer loyalty.

You should also be able to generate detailed reports about billing and revenue, making it easier for you to understand your laundromat's financial performance and identify areas for improvement.
3. Branding capabilities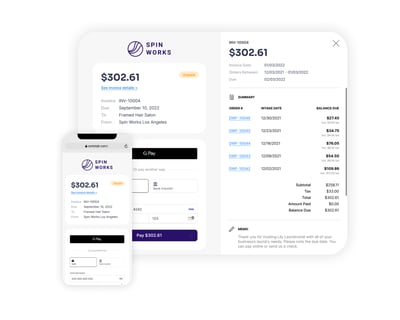 By providing branding capabilities, you can showcase your brand and create a memorable image in the minds of your customers. This can help increase brand recognition and awareness, which leads to higher customer loyalty and revenue.
Branding capabilities allow you to present a more professional image to your customers, helping build trust and confidence with customers and inspiring them to return to your business.
If you're interested in fully customizing the look and feel to reflect your laundromat's brand, choosing software with branding capabilities is important. This helps your business create a unique and personalized experience for its customers.
Branding capabilities can also provide marketing opportunities for your laundry business, such as the ability to add special offers or promotions to branding materials, creating a way to attract new customers.
Commercial laundry software allows you to stand out from the competition by providing branding capabilities. This is especially important in a competitive market where businesses must differentiate themselves to succeed.
How to Start and Manage a Commercial Laundry Business
Adding commercial wash and fold services can turn your laundromat into a highly profitable business, creating new revenue streams and opening doors to a new market of customers. Here are the essentials of starting and managing commercial wash and fold services:
Assess your staff and labor
A self-serve laundromat can operate with minimal staffing, but commercial wash and fold requires new staff and delivery services. This means more training, reliable payroll tracking, and an employee retention strategy. Existing employees will also need training to deliver exceptional customer service which is crucial for retaining commercial clients.
Take an audit of your space and equipment
Starting commercial wash and fold requires a review of your space and laundry equipment. To serve commercial clients, you'll need dedicated washers and dryers, possibly industrial-sized, to avoid impacting your self-serve business. You'll also need sufficient space for storing, folding, and preparing the laundry for return.
Create a pricing strategy
Don't take a one-size-fits-all approach to commercial pricing. Every new customer is a chance to negotiate a unique deal based on their needs, soil level, folding instructions, and volume. To ensure profitability and customer satisfaction, talk to the customer to understand their requirements and determine the necessary resources.
Add pickup and delivery services
Offering pickup and delivery is a huge proponent of commercial wash and fold services, as most of your customers already have that expectation and it gives you a competitive edge. According to the CLA, only 14% of U.S. laundromats currently offer both pickup and delivery with their wash-dry-fold services, presenting an opportunity to stand out. It can be done affordably by hiring a driver or using DoorDash when necessary, providing access to a larger customer market and scaling potential.
Update your technology
Expanding to commercial services can be complex, so a laundromat management system that supports both residential and commercial clients is essential for success. Key features include a POS, payroll, analytics, marketing, and a dedicated commercial invoicing tool like Cents'. This tool simplifies payment collection, freeing up time to focus on building and maintaining client relationships.
A New Spin on Laundromat Management: Cents Commercial Laundry Capabilities
Cents offers laundry management software with a complete set of tools to help laundry businesses manage their operations including residential and commercial customers. Some of the key features of Cents include:
Order Management: Our software allows businesses to receive orders from their customers through multiple channels, including a custom-branded online portal, mobile app, or by phone. Orders can be easily tracked and managed through a centralized dashboard.

Inventory Tracking: Cents helps businesses keep track of their inventory of supplies, such as detergent, fabric softener, and hangers so they can place orders in a timely manner and avoid stockouts.

Route Optimization: Our laundry management software optimizes delivery routes based on various factors, such as distance, traffic, and order volume, to ensure that drivers are able to complete their routes as efficiently as possible, which saves money.

Billing and Invoicing: Cents offers automated billing and invoicing features, making it easier for businesses to generate and send invoices to their customers. It also provides detailed reports on billing and revenue.

Customer Management: Our software allows businesses to store customer information, track their order history, and provide personalized customer service.
Revolutionize Your Laundry Business with Commercial Laundry Software
Cents is an all-in-one laundry management platform designed to simplify operations and increase profitability for laundry businesses of all sizes. Its features include customer management, point of sale, employee management, payroll, analytics, and marketing tools, all accessible from a single dashboard. Cents also offers specialized tools for commercial laundry services, including a dedicated invoicing system, pickup and delivery management, and commercial pricing options. Its user-friendly interface and helpful customer support make it an ideal solution for laundry businesses looking to streamline their operations and grow their business.
If you're ready to elevate your laundry business with a powerful platform that handles it all, schedule a demo to learn more about Cents' useful features.