This month on our #EmployeeSpotlight series, we are excited to highlight and officially introduce our Industry Initiatives Lead, Ariana Roviello! Ariana has a heart of gold and brings incredible value to our team and ensures that our product is the best that it can be for our operators and the laundry industry as a whole. We spoke with her this week about her journey with Cents, how she was able to modernize the laundromat experience and her past life as Sandy from Grease!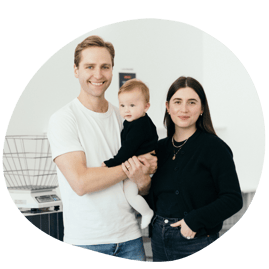 Q. What gets you out of bed every morning?
First of all, my baby starts crying, but ultimately, I think when it comes to work, it's the people that I work with.
Q. What has your career path looked like?
My career path has been pretty singular. I decided to jump into the deep end of laundry at the early age of twenty-four and that's been my main bread and butter. I got into the laundry industry after I graduated from a fashion institute in San Francisco, and my major was merchandising and marketing within retail spaces. One of my last projects while I was there was to create a unique business model surrounding sustainability. I thought laundry was always really interesting, especially because when I moved to San Francisco, I got catapulted into the life of using laundromats, and they were just never pleasant experiences. I never felt super safe there and they are always dirty, and that's what people usually think of laundromats, which is unfortunate.
From there, I created my project around the concept of a sustainable, clean, modern laundromat. I figured you'd have to wash your fashion somewhere, so enter my first laundromat, "Suds and Buds." Thank goodness I decided to change the name. Because of this project, I got so intrigued by the industry and the concept that once I graduated, it kept tugging at me that no one was modernizing this experience, not only with technology but with machines, and how it can be more earth-friendly with how we do laundry. So, I decided to put my business plan together, raised the money, and began the build-out. My first store, Laundré, opened in 2017, which was the first brand new laundromat to open in San Francisco in 15 years. In 2020, I opened our second store.


Q. What has your journey looked like with Cents?
It's been such a fun journey! I was an early adopter of the software as a laundromat operator. Alex, the CEO, came to me when I was in one of their first few stores, and I was really, really excited about the potential and that someone was taking the industry seriously and wanting to give operators an opportunity to grow with all this technology, which has just not been the case in this antiquated industry. I was a customer for a year and then ultimately thought that I could provide a lot of value with the build-out of the product. In August of 2021, I was hired as the Industry Initiatives Lead. Now, I not only get to help with the product, but also help with different marketing initiatives and educate the internal Cents team to help everyone better understand what it's like to be in an operator's shoes. I think that's really important as we continue to build.
Q. What made you say "yes" to Cents?
I would say, first and foremost, the vision. I knew some of the team already just by being a customer, which I will say was always a really lovely experience. But, one of the top two things that have been really great about working here is being able to collaborate with a group of really talented, fun, amazing people. I'm genuinely excited to work with them every day.
Q. Tell us one thing people don't know about you
I played Sandy in Grease in my high school production!



Q. What has been your proudest career moment?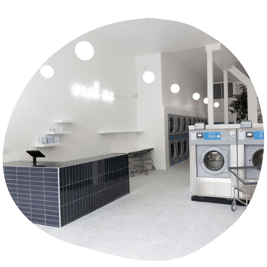 Probably opening my first laundromat. It was a beast, and I thought many, many times that it wasn't going to open. It felt like a very big victory when we opened, but only for about .5 seconds because then I realized how much work it was going to be to maintain it. But yeah, I would say that was a big one, for sure.


Q. What is your secret to making progress each day?
I like having small lists. I have the sticker application on my Mac, and create little lists and try to get through as much as I can. I'm always reprioritizing, which helps me stay organized and focused.


Q. A typical weekend for me is…
Early morning coffee runs with my husband, my dog, and my baby. And then a lot of playgrounds and just basically trying to be outside and active as much as possible.


Q. What makes Cents different from other places that you've worked?
Ultimately, the group dynamic. I love having coworkers to be able to brainstorm with and get their opinions and experiences, which I think is really invaluable. I'm constantly learning so much not only about a SaaS company, but just how a bigger organization works.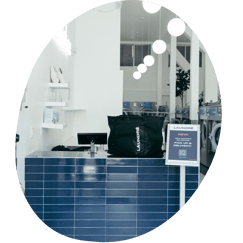 Q. What are you most excited about working at Cents in your role? What are your goals?
I think ultimately just bringing as much perspective to Cents as an operator as possible. Being able to figure out an operator's pain points and then how to fix them seamlessly is an amazing thing to be able to do to help the industry grow and advance.
Looking to join a team of innovative, dynamic, and creative individuals? Check out our careers page to learn more about us and view our open positions! We're growing fast and are always looking for new talent to help us revolutionize the laundry industry.