If you're a laundromat business owner, then you know that developing a laundromat marketing plan can be difficult. There are so many different platforms and strategies to choose from, it can be hard to know where to start. In this day and age, it's important to make sure you have a strong online presence. Your website should be up-to-date and informative, and you should be active on social media platforms like Facebook, Instagram, Twitter, and Google.
In this blog, we go over some of the most important laundromat marketing strategies that will help promote your business. By following these guidelines, you'll be well on your way to attracting new customers and growing your business. We'll go through each of these individually to make them as practical as possible.
Developing a solid laundromat marketing strategy
When you're first starting out, it's important to develop a solid marketing strategy. You'll need to decide who your target market is and what methods you'll use to reach them. Some common marketing methods include print ads, online ads, direct mail, and word-of-mouth. Figure out which method or combination of methods will work best for reaching your target market, and then invest time and money into making it happen.
Get involved in your community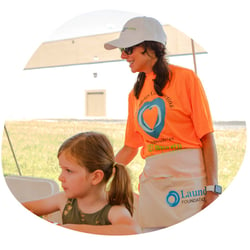 One great way to market your laundromat is to get involved in your community. Sponsor local events, partner with other businesses, and host charity fundraisers at your laundromat to help raise awareness of your brand. Getting involved in the community will not only help you market your business, but it will also make you a more recognizable and trusted presence in the area.
The LaundryCares Foundation is a great way to give back to your community. They are always on the lookout for laundromats looking to host a Free Laundry Day, an ideal way to make an impact in the lives of others and establish trust with your laundromat. Learn more about how you can sign up to host a free event.
Setting up a Google Business Profile
Setting up your Google Business Profile, formerly Google My Business, is the best way to establish that first connection with your potential customers. When they search for "laundromats near me", you'll appear as a candidate. With your Business Profile, you'll be able to showcase pictures of your laundry business, the address and phone number, hours of operation, and even post promotional offerings.
How to set up a Google Business Profile Account for your laundromat
Setting up a Google Business Profile account for your laundromat is easy. Just follow these simple steps:
Go to Google Business Profile.

Click on "Manage Now".

Create your profile. Fill out the "Business Name" and "Business Category" fields. For the "Business Category" field, type in "Laundromat" or "Laundry Service", whichever works best for your store. Click "Next".

Fill out your business address.

Answer if you provide deliveries or home and office visits. If you have a pickup and delivery business, choose yes.

Add your contact information: the best phone number for your business and your website URL. If you don't have a website, Laundromat Resource would love to help get you online with a website! Having a strong online presence has never been more important than now.

Choose if you want updates and recommendations from Google for your business.

Verify your business: enter your name and Google will send a postcard with a verification code to the address you provided. This could take up to five days to arrive. While you wait for your verification code to arrive, you can still continue to create your profile.

Add your business hours. Click the tab on the days you are open and fill out the appropriate times. Make sure the information is accurate.
Tip: You will be able to change these for holidays or other seasonal changes.

Choose whether you want to add messages to your account. This is a great feature for communicating with your customers. Learn more about this feature here.

Add your business description. Make sure to include what your laundromat offers, what sets you apart from other local laundromats, and anything else that would be helpful for your customers.

Add photos. When adding photos, make sure to include high-quality photos to set yourself apart from the competition. Great photos make an excellent first impression!

Choose if you want to start advertising now or not. For now, you can skip this step and come back to it after you've created an advertising plan.

If you don't have a website yet, Google will give you options to purchase a domain from them in this step. For now, you can skip this step.

The final step informs you that once you are verified, customers will begin to see your edits. Make sure when that postcard comes to go back to your Google Business Profile and enter the code provided to you.
After completing these steps, you will have officially created your Google Business Profile. Setting up a GBP profile is essential for any laundromat business. It allows you to control your online presence, provides customer insights, makes it easy for customers to get in touch with you, and more. So make sure to follow the simple steps provided to set up your account today.
Implementing search engine optimization (SEO)
Laundromats and laundry service businesses cater mainly to a specific geographic radius and therefore rely heavily on local customers being able to find their business. That's why laundromat owners benefit significantly from SEO, specifically local SEO.
Forty-six percent of online searches are looking for something local. These are the kinds of searches that look like "laundromat near me" or "laundromat brooklyn ny." And it's these kinds of searches that, if you can ensure your laundromat populates the top results, will have high conversion rates for new customers.
When implementing a local SEO strategy, a laundromat can develop several location indicators for the search engine to read. Once a search engine has crawled or read a business and identified it at a particular location, it can begin to show that business in local searches.
Here's how to get started with local laundromat SEO:
Understand your search area: Before diving in and optimizing your website, it's important to establish the exact search areas that you want your laundromat to populate for. Compile a list of localized search queries relevant to your location or locations, and be sure they are correctly represented throughout your site.

Implement consistent contact information: Your business name, address, and phone number should be consistent throughout your website and should be listed somewhere (usually in the footer) on every page of your site.

Optimize your web content: Create "location pages" on your website for each laundromat location, and be sure to mention — not overwhelm — your location throughout the site as appropriate. Packing your pages with local keywords you are trying to rank for is known as "stuffing," and it's a tactic search engines penalize business websites for.

Claim your Google Business profile: If you've followed the steps of the above section and consistently added your local information, this important step is already done!

Improve your web readability: Adding local information to your site is only beneficial if search engines can properly read it. Make sure the internal linking throughout your site is logical, optimize your content for accessibility, and make your site as mobile-friendly as possible.
Using social media to connect with customers
Laundromats can use social media to connect with potential and current customers, as well as promote their business. Platforms such as Facebook, Twitter, and Instagram offer opportunities to share photos and information about specials, new services, or upcoming events. Laundromats can also use social media to respond to customer inquiries or complaints.
Not sure where to start? Check out these tips for using social media as part of your laundromat marketing strategy.
5 ways to use social media to connect with customers
Use social media to share photos and information about your laundromat, specials, new services, or upcoming events. This will allow your customers to stay up-to-date on what's going on at your business.

Use social media to respond to customer inquiries in a timely manner. Customer inquiries should be addressed as soon as possible, and social media provides a great platform for doing so. By responding to customer inquiries or complaints promptly, you show that you care about your customers and their experience at your laundry business.

Use social media to run promotions or contests that encourage customers to visit your laundromat. Promotions and contests are a great way to generate interest in your business and get people through the door. They also encourage customers to interact with your social media posts, which can help to increase your visibility. Finally, they also foster loyalty with your current client base.

Use social media to share positive customer reviews and testimonials. Customer reviews and testimonials are powerful social proofs that can help to build trust with potential customers.

Use social media to connect with other businesses in your community that complement your laundromat business (e.g., dry cleaners, tailors, etc.) and groups of potential customers (e.g., Facebook groups). Connecting with other businesses in your community can help to generate referrals and promote a sense of partnership. Joining relevant groups on social media is also a great way to get your business in front of potential customers who may not be aware of your laundromat.
Examples of great laundromat social media pages
As we mentioned, having a great social media presence can drive traffic to your store and give you more customers. By taking the time to create interesting and engaging content, you can reach a wide audience and build relationships with potential and current customers. There are some laundromats that wield their internet savvy to promote their company, show off their team, and convert sales from their ideal clients.
Glidewash in Arizona has a clean Instagram profile of still images. They stay on brand and do a great job connecting with their customers.
The Laundry Room in Culver City also has an incredible Instagram account. Their photos are great, but they also use creative captions and hashtags to connect with their customers. They post videos of their store and team members, which is a great way to show off their personality. They really shine in their repertoire of short videos.
The Folde does an excellent job of promoting its specials and services on Twitter. They also post helpful laundry tips and show their store in a positive light.
All of these laundromats have one thing in common: they're using social media to connect with their customers and promote their businesses. If you want to see success with your own social media efforts, take some cues from these examples.
Attracting new customers with discounts and promotions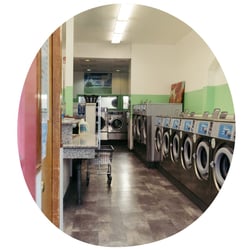 In today's competitive market, consumers are always looking for ways to save money. By offering discounts on your services, you'll be able to lure them in and get them to try your business.
Not only will discounts and promotions increase your customer base, but they can also be used as a tool for your laundromat marketing. When done correctly, discounts and promotions can be powerful marketing tools that will help you achieve your business goals.
5 laundromat marketing discounts and promotions
1. Run a social media contest
Encourage your customers to take pictures of their laundry and use a specific hashtag. The person with the most creative picture will win a discount at your laundromat.
2. Offer a loyalty program
Give your customers a card that they can get stamped every time they do their laundry at your laundromat. After 10 stamps, they will receive a discount on their next visit.
3. Give a percentage off for referrals
Offer your customers a discount if they refer a friend or family member to your laundromat. Deploy a sales force of your customers in the community to grow your business more rapidly.
4. Have a special promotion day
Choose one day each week or month when you offer discounts on laundry services. This could be a "Discount Day" where all laundry is 10% off or a "Bulk Laundry Day" where customers receive a discount for doing multiple loads of laundry at once.
5. Give a freebie with purchase
Include a small promotional item (such as a laundry bag or detergent sample) with every purchase made at your laundromat. You can even offer a free wash periodically or when certain criteria are met.
Marketing your discounts and laundromat promotions
There are many different ways that you can promote your discounts and promotions. Getting attention for your business online can be effective in driving more foot traffic to your coin laundry.
Running paid Google and Facebook ads can spread the word quickly about your promotions and discounts. These are the most common platforms that a laundromat owner might advertise on, but you can experiment with other social media platforms, too.
You can also spread the word offline by distributing flyers or other promotional materials to attract more customers.
Having a visible sign on your store and a solid website, coupled with your advertising plan, will bring more people through your door. Just be sure that your laundry equipment is working, your store is clean, and your strategy makes sense.
How to implement discounts and promotions
When implementing discounts and promotions, it's important to have a plan in place. First, you'll need to decide what type of discount or promotion you want to offer. Once you've done that, you'll need to develop a marketing plan. It's also important to set some guidelines for your discounts and promotions.
Once you've created your plan, put it into action and start marketing your discounts and promotions. Keep track of how well they're working and make changes as needed.
How to market your laundromat without spending a dollar

Laundromat marketing and advertising initiatives are crucial to obtaining new customers to boost revenue, but tackling marketing for the first time can be intimidating and time-consuming, especially when there's a budget on the line.
To learn more about how you start marketing your laundromat to reach more customers without breaking the bank, download our guide!
Jordan Berry is the mind behind LaundromatResource.com, which aims to help clients learn about and break into the laundry industry. Jordan Berry's 2 Cents is a spin cycle on our proverbial customer education machine that we like to run whenever we can. Keep an eye out for more of his featured input in the future!