As the pillar upon which purchase transactions are processed and fulfilled, the point-of-sale (POS) system is essential for most businesses. The laundry industry, however, has been slow to bring the POS system into the 21st century. Other industries have developed POS systems unique to their processes and customers, but laundromats have not typically had access to technology like this.

Not only this, but generic POS systems that are designed to cater to any industry do not satisfy the many unique nuances of the laundry industry. This is why laundromat owners need a POS system designed specifically for laundromats in order to improve management, increase revenue, and streamline staff and customer interactions.

The business management solution from Cents is much more than just a POS, and it's designed exclusively for the laundry industry. Cents' POS includes important features that make a great POS unique to the laundry industry, such as mobile transactions and inventory tracking. It also expands into a comprehensive management system that tracks sales, offers custom hardware and laundromat software, and streamlines customer communication.

To help you get the most out of your POS system, we'll explore how a POS should benefit businesses, the features a POS can offer specifically for the laundromat industry, and how the Cents laundromat POS and business management solution revolutionizes point-of-sale for laundromats.
What is a POS system?
Every time a customer makes a purchase, they're completing a point-of-sale transaction. So, the point-of-sale (POS) system is the tool your company uses to facilitate that transaction. Before transactions were almost exclusively digital, the POS was the cash register. As debit and credit cards gained prominence, the next iteration of the POS included the card reader and processor.

Today, digital technology dominates, and seamless, convenient transaction processing is no longer a special feature — it's an expectation. As a result, many point-of-sale systems today include features such as mobile functionality, contactless payments, and e-commerce integration. The advancement of transaction technology is not slowing down; businesses need to keep up with the evolving systems in order to continuously cater to customer expectations.
The customer perspective
For the customer, an effective POS can provide a user-friendly interface that encourages them to complete transactions. When customers experience a streamlined, no-hassle transaction process, they are more likely to become repeat customers, bolstering client loyalty to your business. If it's not user-friendly, it can have the opposite effect, discouraging customers and causing transaction abandonment.
The business perspective
For the business, the POS offers an easy-to-use platform through which you can monitor transactions, improve the ease of use for your customers, and even collect customer information. Ensuring your POS is easily understood by your staff is essential to well-oiled business operations. The less time you need to train new employees on the system and the fewer complications your staff experience, the more time your team can spend fulfilling orders and working with customers.

On the other hand, a POS that is not suited for your business can have an adverse effect, slowing down processes and making transactions harder for your customers and your staff. A generic POS may not have features available to streamline the unique operations of any specific industry.

This means that business owners will need to either implement additional steps to ensure orders are completed the right way and communication is streamlined, or they will need to pay extra fees when purchasing the POS product to integrate specific features that don't come standard in a generic system. A POS designed specifically for a given business industry should include features that are specific to your business operations and are easy for you and your staff to understand and integrate.
What is a laundromat POS?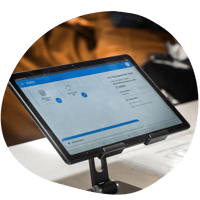 While the modern POS system has come a long way from the cash register, the laundry industry has remained thoroughly underserved. Laundromats have unique business processes that combine elements of traditional retail, e-commerce, the gig economy, and other industries.

The features of a generic POS that are meant to serve all industries do not quite satisfy the needs of a laundry business. Customer interfaces are different from that of traditional retail since there can be both self-serve and full-service order options. Maintaining laundromat inventory is unique, with a very niche stock of products to supply and store. Customer interactions can vary significantly based on a wide range of transaction types. A laundromat POS should provide all the important functions of a generic POS while adjusting those features to compensate for the nuances of the laundry industry.
5 critical features of an effective laundromat POS
1. Order tracking & process management
As an owner, you want a laundromat POS system that puts everything you need to monitor orders and manage processes into one, single place. With an effective system, your business will be able to track store operations, employee information, and order data, including machine numbers and cycle stages.

Being able to track orders at any stage, from the first load to delivery confirmation, will also improve relationships with your customers and order processing within your business. As part of that, your POS system should be intuitive enough to enable quick order edits and customer communication to nurture those positive connections between you and your customers.

As part of order processing, a POS system that offers an integrated solution to enable businesses to use electronic payment system hardware and cash-card technology is also important. With this ability, your laundry business can accept cash, coins, debit and credit cards, smartphone apps, NFC credit cards and devices, or loyalty and EBT cards. Being able to accept all payment methods will offer customers a seamless payment experience.
2. Pickup & delivery
Whether you offer your own in-house drivers or utilize the gig economy, your laundry business will want a laundromat POS system that offers the ability to track pickup and delivery. Using analytics, you'll be able to understand how drivers perform and how they optimize the customer experience.

If you're looking for a more affordable Pickup and Delivery option, the gig economy can offer a no-cost delivery model to owners and a low-cost delivery service to customers. Having a POS system that integrates with gig economy apps can help you offer this service to your customers at your laundromat business.
3. Robust customer relationship management
Being attuned to your customers' purchase behaviors better equips your laundry business. When you know their laundry services needs, you can engage with them on levels you never thought your business could. You'll be able to improve customer interactions and optimize the entire customer experience.

With an all-in-one laundromat system, you can track insights to help better understand your customers. Keep tabs on promotion engagement, money spent and saved on campaigns, new vs returning customers, and geographic-based responses. With a POS that can integrate customer data, you can also create dynamic promotions based on data like specific time ranges, stores, service types, quantities, and more.

If you have a laundromat website, a laundromat POS system will help provide you with more accurate insights into traffic and marketing efforts. This integration can also provide you with an organic, streamlined process to digitally encourage reviews and referrals of your laundromat. When you tie it in with promotions, you'll have the ability to try offering discount codes for each new customer referred or review left.
4. Business & employee management
Managing all operations in one location gives laundromat business owners the control you need in today's world to make decisions that will positively impact your business. With a laundromat POS system that can drill down into operations and performance, it helps set your business in motion.

For example, without the proper laundromat software, it can be nearly impossible to track individual machine usage across locations. The right technology can shine a light on the machines that are used the most and break down often, so you can ensure that you're fulfilling the needs of your business and customers.

Having the ability to track employee and operational efficiency is key to increasing margins. Employee data can help understand each employee's customer success strengths and help create an improved customer experience and increase customer retention and loyalty. An all-in-one laundromat POS system can help you in analyzing the different employee processes, which team tactics are working, and who is better at spelling laundry services.
5. Data & analytics
A holistic laundromat POS system can have a major impact on the future of your business. Data and analytics overlap with so many other areas of your business, and having the right systems in place to accurately track key performance indicators for your business is essential. Collecting and centralizing all your data under one operating system helps you appropriately set goals and expectations that are backed by real-time data.
Employees, hardware, software, and locations function more efficiently when operations and performance management tools provide up-to-date insights. Whether you want to thoroughly know your business or looking for new growth avenues, you need to be able to dive deeper into performance tracking to meet or exceed expectations. Knowing your numbers, like the ones below, are some of the most important metrics for your business, and you want a POS that can provide you with:
Return on investment

Pounds folded per hour

Average processing time

Order ratings

Frequency machines break down
These numbers help visualize the growth your business has achieved, prepare you for the anticipated growth, and help you ensure you have the right team, tech, and promotions in place.
The Cents difference
The POS system touches all other aspects of your business, including inventory, payment methods, and sales. Many POS systems, however, are not designed with this cross-functionality in mind, creating a disconnect from inherently connected areas of business. The Cents laundromat POS system is designed to be so much more than a point-of-sale system — it is a comprehensive business management solution that integrates many aspects of the laundry business.
Cents OS
By utilizing the immense resources Cents has designed exclusively for the laundry industry, laundromat business owners gain access to the only POS tailored specifically to laundromats.
Inventory management specific to laundromats: Inventory tracking and product stocking are unique for laundry businesses; tailor your inventory management directly to your specific product needs.

Better customer interactions: Facilitate more effective interactions between your laundry business and your customers with efficient mobile communication.

Integrated payment systems and interfaces: Customers will experience a seamless interface that is consistent throughout the washers and dryers, as well as online while placing mobile orders.
One comprehensive platform
Working hand-in-hand with a top-of-the-line, laundromat-specific POS, Cents offers one centralized platform to manage and track sales and inventory. Channeling sales and inventory data into one platform allows laundromat owners to quickly and efficiently generate insights and make better-informed decisions.
Automated management: The Cents platform allows laundromat owners to automate inventory management by setting up notifications to alert at designated levels of stock.

Data is power: Not only does the Cents solution allow laundromat owners to view sales data all in one location, but it also analyzes your numbers to gain powerful insights that empower you to make smart decisions for your laundromat.

One system, infinite benefits: Rather than attempting to integrate a number of different systems that don't successfully work together, utilizing one system allows all of your data and operations to talk to each other easily. This significantly increases the visibility of your data, as one platform can see each element of your business more clearly. This is also a major advantage to owners of multiple laundromats or franchises, as they are not limited to what can be analyzed in one location at a time, but can see the whole picture.
Flexible, frictionless payments
The shift toward cashless payment methods has grown rapidly in recent years. Because of this, Cents partners with a wide range of highly advanced payment provider technology, including Equipment Systems & Devices (ESD). These partnerships create an integrated tech experience that pairs electronic payment system hardware with Cents' business management platform. The solution utilizes custom hardware and cash-card technology to leverage Cents' powerful laundromat software capabilities in-store and remote.

On top of integrating with existing payment systems, Cents also offers its own suite of integrated solutions that work directly with the Cents OS platform to make communicating between your machines seamless.
Cashless hardware: Providing customers with a cashless washer and dryer experience facilitates a more user-friendly and safer option for in-store transactions.

Mobile-friendly transactions: Mobile business capability is the expectation for customers today. The Cents platform provides completely mobile-friendly transactions so that customers can complete orders without being in a brick-and-mortar location.
Location-based sales regulations
Sales laws and regulations, such as taxes and other fees, can vary significantly from county to county and even state to state. It's essential that laundromat business owners, especially those with multiple locations or franchises, stay on top of sales regulations in their areas. Cents allows you to calibrate your POS to match the sales legislation of each laundromat location.
Online transactions
The ability to complete transactions entirely online is no longer a special feature — it is the expectation, and the laundromat industry is not immune to this expectation. Being able to offer online transactions places less social pressure on customers, which is essential to provide as mobile and online convenience continues to be a priority. Also, the ease and comfort of a user-friendly online platform encourages customers to complete transactions, and it motivates them to use your platform again and become repeat customers.
Learn more about Cents laundromat POS system

Find out how Cents, the industry-leading point of sale and business management system, helps laundromat owners improve business operations and save time and money. Download our free infographic to learn how successful laundromats are using these top 10 features to transform their business.
Get started with the Cents laundromat POS
An effective, user-friendly POS system is essential to the success of any business, but especially the laundromat industry which has struggled to modernize this technology. With something so crucial, don't leave transaction processing, sales management, and inventory tracking to a generic solution that does not compensate for the nuances of laundry businesses.
Instead, integrate an all-in-one business management solution with cutting-edge POS features that is designed exclusively for laundromat businesses.
Partnering with Cents provides laundromat owners with a POS solution unique to the laundromat industry as part of an expansive business management system.