For October's #DimeOfTheMonth, we are thrilled to feature our most senior Sales Development Representative, Adamo Pulzone! Adamo prides himself on hard work and solving real problems for laundromat owners. He's been a lifelong high-volume sales producer, and now, bringing his talents to his position on the Sales team here at Cents! We chatted with him to learn a little more about his journey to Cents, his secrets to success, and his love for the outdoors.

Q. What gets you out of bed every morning?
Coffee/tea and getting ready to meet with my work team. For a flexible work from home job, the team here is very tight knit in a sense where we all care about each other and the overall goal to move the wash and fold industry forward. I enjoy recapping the previous day's successes and game planning for the day.
Q. What makes Cents different from other places you've worked?
Our team at Cents is great because we all work together to handle different issues that arise. Each laundromat owner has a specific set of issues they want to resolve and I love how collaborative and communicative each member of the sales team and other departments are to help one another with specific operator requests. We're all in this together and trying to be a voice in the industry and push this industry forward.
Q. What has your career path looked like?
I've always been a hard worker. I started working at age 11 and created a neighborhood client list of people in my neighborhood who could use snow shoveling services during the winter breaks and after school. Once I turned 14 I got a part time job at Dunkin Donuts and a few months later picked up a second part time job at a pizza shop next door (My mom actually wasn't happy with that one). I eventually got into sales when I turned 17 working at Radioshack and eventually selling mobile products at Sprint, then Verizon. I learned that I really enjoy sales because of the connection with customers when resolving their needs. Achieving quotas and reaping benefits of putting in the work is great, but to me, there's really no better feeling than knowing that you helped someone.
Q. What is your proudest career moment and why?
I have many, but lately I've taken a lot of pride in my work after a customer takes a demo and goes out of their way to send me a text, thanking me for taking the time to listen to their business needs and ensuring them that we have a solution. Many of them didn't even know a service like Cents exists and it makes me feel good knowing that I can be the one to introduce them to such a groundbreaking technology specific to their day to day. At the end of the day, there's really know better feeling than knowing that you helped someone.
Q. What is your secret to making progress each day?
I go into each call with laundromat operators with the intention of having a conversation geared towards their business needs.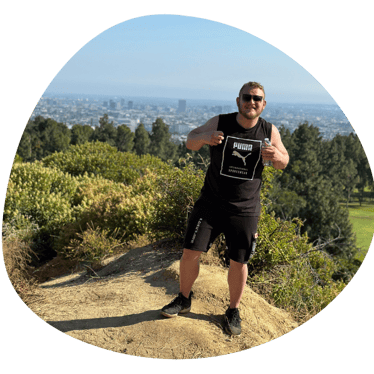 Q. A typical weekend for me is…
Being outdoors! I absolutely love hiking and on days that I don't feel like trekking 5-9 miles, I'm probably walking the beach with my dog Max then at home listening to music and cooking.
Q. Do you have any mottos, personal mantras, or words you live by?
I'm a big Patriots fan so I always remind myself, "Do. Your. Job." The mantra basically means that everyone on the team has a role. I like to remind myself that I'm part of a company that is changing the laundromat space for the better and I'm grateful that my job is to build excitement with operators and in turn, help them understand that their goals are more attainable than they may think.
Favorite laundry product
Downy Dryer Sheets - Lavender and Vanilla Bean