This month on our #EmployeeSpotlight series, we are so excited to feature and officially announce our Chief Operating Officer, Nick De Angelo! Nick is a start-up expert. He loves seeing businesses grow quickly, which makes him an amazing COO here at Cents. His energy around the New York office is contagious and his problem-solving mindset is an inspiration to all of us. We chatted with him this week to talk about his experience at other startups like Glossier and Jet.com, his past as a submarine officer in the Navy, and what makes Cents so special.
Q. What makes Cents different from other places you've worked?
I've worked with a lot of early-stage companies and they share similar aspects of an early-stage startup, which is my favorite part of the lifecycle of a business. There's all the energy, humor, lack of pretense, and people just wanting to get stuff done. What makes Cents different from other startups is that, across the board from our CEO down, I feel like everyone has a really deep understanding of every part of the laundromat businesses we're trying to serve, and that's energizing and empowering. I feel like everyone really is interested in wanting to understand the industry and not be that siloed into their own area.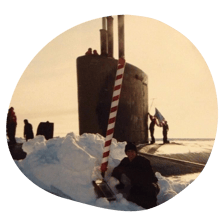 Q. What has your career path looked like?
I was on an ROTC scholarship at Notre Dame, and I went immediately into the Navy where I was a submarine officer. After five years in the Navy, I decided to help that transition by going to business school for a couple of years. First I started working for a large company that was operations-focused, but then I went from there to a few startups. I was with Diapers.com, and then we grew and were bought by Amazon. I was also at Jet.com during their really early stages, and we got bought by Walmart. Most recently I was at Glossier, which was a later-stage startup. I found that I really liked startups that were moving and growing really fast, and then scaling them.
Q. What is your proudest career moment and why?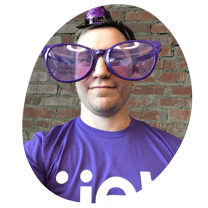 I joined Jet.com as the first employee that wasn't a software developer. We spent a year and a half building that business and I built out a supply chain and fulfillment organization, transportation partners, and essentially three warehouses across the US. We scaled them up with hundreds of people and thousands of products. When we went live and opened the website for business to the broader public, thousands of orders were pouring in right away. It makes me proud to look back at all we had built in such a short time. I think about all the great people I was so lucky to work with and brought on board to help do a monumental and sometimes seemingly-impossible task.
Q. What is your secret to making progress each day?
For me, it's a to-do list. I've found that just staring and sending myself emails as task reminders is the most effective for me because it's a way that I can consistently keep at it and it keeps me honest. That way, when I start my day, I can go back and use that as my source of truth and task list. I'll often tell people to send me an email after a meeting because that works best with my process.
Q. What makes you most excited about working at Cents?
Much like some of the other great startups I've been a part of, there's just such a huge opportunity to take things from 20% done to 90% done. With bigger companies, you're constantly trying to take things from 95% perfect to 96% perfect. I think that I'm naturally impatient and I like to see big changes, so that's what gets me excited about Cents. I feel like there's just so much to do and, looking at the overall industry, it's such a huge opportunity. We have such a unique position in the market and that makes things great for Cents. What's also so wonderful about this company is that every single operator that uses our software tells us that it actually helps make their business better. It's so amazing being part of that kind of a win.
Q. A typical weekend for me is…
I mostly try to relax and spend time with my family. I have three kids: 15, 13, and 10. I like to play video games with them and watch a TV show or movie. I also love to cook. I make some homemade sauce, some meatballs, or in the summer, I make a lot of ribs and brisket. My parents and brother are nearby and we just get together and spend time with family.
Q. If you could switch your job with anyone else within Cents, whose job would you want?
I spent a lot of time as a software product manager earlier in my career designing warehouse management systems and being in charge of those products. I would switch with someone in the product world because I just love working through bugs and thinking about how to solve a problem, then testing and rolling it out to the users and seeing how that all works. I love the whole product process.
Q. Tell us one thing people don't know about you.
One thing people don't know about me is I love musicals. I don't think many people would guess that about me. I probably know every word to Disney's The Little Mermaid, The Beauty and the Beast soundtrack, The Sound of Music, and My Fair Lady.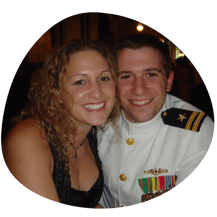 Q. What advice do you have for prospective Cents candidates?
I would say the advice I often give to anyone joining an early-stage, fast-growing startup is to make sure this is the kind of place that you want to be. There's nothing wrong with not liking certain aspects of a startup, but you should be prepared to become impatient and you should want to fix problems fast and right away. You should thrive in ambiguity without having a playbook already given to you. You should enjoy bringing some sort of order, but incrementally, to that chaos. Some people want to go work at big companies where they're going to do the same thing as the ten other people next to them and the way to do those things has been honed over 20 years, and you just have to do things better than your peers to stand out. I always tell people that when you're going to a startup, it works differently. Make sure you love this kind of thing because if you love it, you're going to be great at it.
Q. Motto or personal mantra/Words to live by?
I think one thing I often think about is just remembering that everyone is the hero of their own story. This helps ground me, and be charitable and empathetic to what other people are doing. Especially when there's tension or disagreements, ask why. Why is someone doing it that way? Why does that make sense to them? How can I understand that and come at it from a "we've got to find common ground" idea? They're probably doing it because it made sense to them. Let's understand that and figure out how to move forward from that.
Looking to join a team of innovative, dynamic, and creative individuals? Check out our careers page to learn more about us and view our open positions! We're growing fast and are always looking for new talent to help us revolutionize the laundry industry.