This month on our #DimeOfTheMonth series, we are delighted to feature our UX Designer, Joe Sioufi! Joe is a goal-getter. From working at SoundCloud to finding his passion for design, he takes us through his secret to success and how important it is to stay grounded. We chatted with him this week about his journey to Cents, the best way to achieve your goals, and what makes working at a startup special to him.
Q. What gets you out of bed every morning?
General excitement to create things and achieve goals. I think there's a good sense of work/life balance here at Cents, and they take care of their employees, which is a really great thing to see. I work with very personable, smart, and driven people. I feel like that's a crucial part of startup culture that I love.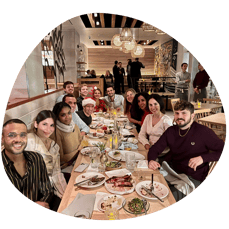 Q. What has your career path looked like?
I had no idea what I wanted to do after college. I had a marketing internship and somehow ended up in PR, which was a disaster. Then I learned what UX design was. I found the General Assembly Program and did a UX boot camp. From there I got an internship with SoundCloud, which then led me to contract work, which I did for most of my career until I found Cents.
Q. What is your proudest career moment and why?
Getting hired at SoundCloud or getting my first contract job, which was at American Express. I really just took what I learned in those programs and used it to completely just launch my career which—honestly when I think about it—saved my life.
Q. What advice would you give to your younger self?
I would definitely say: just go for it. Spend less time talking and thinking about doing things and just act on them right away instead.
Q. A typical weekend for me is…
Definitely band practice. I spend it rehearsing with one of the three bands I'm in, catching a show, and going to bars and restaurants in the city. Or just making music and lounging at home.
Q. What is your secret to making progress each day?
The key for me is to start thinking of my big goals as a series of small achievable goals. In college, I saw a talk by musician and entrepreneur Martin Atkins where he shared his motto: "aim low, get high." But the idea behind it is if you set a long-term goal for yourself, you're biting off more than you can chew. It's going to be a lot harder to get there versus if you just set a series of small, achievable goals. You'll get where you want more efficiently.
Q. What advice do you have for prospective Cents candidates?
No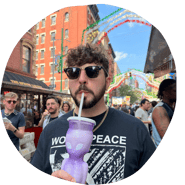 t to be cliché but my advice would be: be yourself. Be straightforward. This is a no-B.S. environment.
Looking to join a team of innovative, dynamic, and creative individuals? Check out our careers page to learn more about us and view our open positions! We're growing fast and are always looking for new talent to help us revolutionize the laundry industry.