The laundry industry is looking up. Recovering from a significant dip during the global pandemic — as many industries are — self-serve laundromats are going strong, and the service elements of the industry are developing and requiring more speed and creativity than ever. In fact, a recent market report predicted the laundry services industry to have a 5% growth rate, reaching $127 billion by 2025.
In order to keep up with the rapid pace the laundry industry is growing, the operations and management of laundromats need to evolve with it. Employee retention, customer expectations, technological advancements — the laundry industry requires new strategies and tools to keep up with these consumer and employee evolutions. In this piece, we'll discuss the current landscape of the laundry industry, what trends and practices are driving the future of laundromat operations, and how owners can embrace digitization and technology to exceed the pace of the industry's growth.
Today's Laundry Industry Landscape
On the heels of a pandemic-stricken society, laundry services and how they are executed have had to evolve, triggering a new embrace of technology and digitization in laundromat management.
Laundromats during the pandemic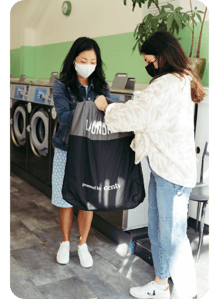 While the laundry industry as a whole is growing, it's important to acknowledge the difficulties experienced by laundromat owners due to the pandemic. As a result of health concerns and staffing shortages amid the global pandemic, the laundry services industry saw a nearly $2 billion revenue drop in 2020.
Laundromats and other laundry service businesses saw a drop in one of the biggest revenue drivers: commercial accounts. As businesses everywhere lost business and staff, there became much less need for commercial laundry services for staff at restaurants, gyms, spas, and similar establishments. In addition, health concerns and lockdowns surrounding in-person services resulted in significant losses for self-service laundromats.
Laundromat professionals aren't giving up
In the face of adversity, professionals in the laundry services industry have not thrown in their hats. Despite the challenges the pandemic created, it also opened the industry's eyes to new possibilities. Laundry businesses examined how they conducted their laundromat operations and found creative and progressive ways to serve their customers and bring in revenue.
We learned how to leverage the power of technology and the gig economy to safely service laundry customers by offering pickup and delivery via rideshare services. Laundry businesses saw an increase in wash-dry-fold and pickup and delivery services as customers demanded more convenience and safety.
Monica Duling, owner of Laundry Liberator, told us, "Laundry as a society needs to move more toward digital systems... We need to be moving the industry to more streamlined methods."
Monica has done exactly this within her laundry pickup and delivery service: "With our business, we've rolled out fully-online booking. You can schedule something at 1:00 a.m., and I'll show up the next morning."
The rise of premium laundry services
With the rise of the "small nuclear family", as well as the single-person household, many individuals are looking for new, convenient options for getting their laundry done. Monica Duling expressed to us, "Moms, dads, and single heads-of-families need that help because their lives just keep getting busier."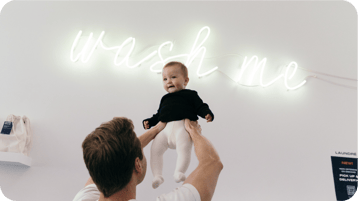 This has increased the need for professional cleaning for both convenience and economic benefit with fewer family members. It provides opportunities for self-serve laundromats to scale with the changing economic environments, perhaps going from self-serve only to adding wash-dry-fold services and finally adding pickup and delivery services.
This is not the only route that laundry businesses can take to incorporate much-needed services to customers. Laundry Liberator, for example, meets people where they are without a brick-and-mortar location. According to Monica Duling, "We only do pickup and delivery. We meet people at a variety of locations, usually at their homes or offices." They utilize versatile employees and gig partnerships to offer customers the convenience of a laundry service that exists wherever they are.
The Future of Laundromat Management is Here
As of mid-2021, the coin-operated laundromat market is $14.6 billion annually, and that number is projected to grow at 9.4% per year up to 2027. In order to tap into this growth while the industry is hot, owners and managers need to evolve their laundromat management and operation techniques and technologies.
When she purchased KC Laundry, Kathy Tock went right to their customers to discover what they were looking for in a laundromat. Their customers "wanted to be able to pay for their products and their wash and fold with a credit card at the same time," so KC Laundry immediately integrated a system to meet those needs. "It is a POS system, a way for us to track our wash and fold and to manage from the backend." Laundry services need to be ready to listen to their customers' needs and embrace the future of laundromat operations.
Leveraging change
While change can be hard for any business to adapt to, it can also be essential for identifying new avenues of growth. Understanding that the laundry industry is trending in the direction of more expansive services and convenience, owners have the opportunity to leverage that change into new business. Honing in on heightened convenience and customer experience, laundromat owners can enhance their service in a number of ways:
Expanding geographical areas: By harnessing the gig economy and online ordering, your laundromat no longer needs to be within a 10-minute radius of customers. With these elements in place, you can promote your laundromat to a larger geographic area, bringing more and different demographics of customers.

New market demographics: By expanding your services beyond self-serve laundry, laundromat owners can attract different demographics of customers, including those interested in more convenient and luxury services.

Services at higher prices: When it comes to how customers select premium laundromat services, such as wash-dry-fold and pickup and delivery, the decision has little to do with price. Customers want a quality of laundry service better than what they can perform themselves and in a more convenient way, so don't be afraid to charge a fair price for a luxury service.

Commercial opportunities: Now that businesses are back and closer to full staffing capacity, commercial laundry is a great service option to provide laundry businesses with consistent revenue, catering to businesses that need timely and high-quality laundry services.
Leveraging employees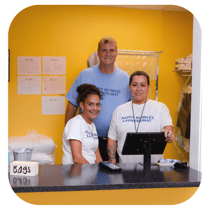 As your laundromat management evolves, so should your employee management techniques. These individuals are the face of your business, so understanding how to successfully hire, train, and retain them as your business grows is essential to its success. It's important to maintain a human connection with your customers, and your employees are an essential way to do this. According to Monia Duling, "Laundry is personal — so are we. Keep a grasp on that personal nature."
For the Laundry Liberator, "[Hiring] has been a struggle but also a turning point in realizing that the effort of getting people adjusted to this unique kind of business is worth it." In order to effectively leverage your employees, you need to put in the time and effort with training and streamlined processes.
One of the most effective ways to simplify and streamline your employee experience is to integrate a laundromat management system that supports them, rather than holding them back. According to Kathy, "My attendants don't need to pick up the phone and call a customer to tell them their laundry is ready for pickup. They can do it all with the click of a button."
Maintaining an environment in which your staff has control over their output and the ways they communicate with customers, the more opportunity they have to take the initiative in their success, the more satisfied they are in their work, and the more likely they are to stick around.
Leveraging data
One of the most crucial ways for owners to stay ahead of the curve and be prepared for the future of the laundry industry is to understand the data. This not only includes the larger scope of data about the industry as a whole but data collected about your business and its performance within your current markets. With the right laundromat management system in place, owners can gather and analyze important metrics, including:
Employee data - pounds folded per hour

Customer data - customer locations and demographics

Financial data - how much is spent stocking certain products compared to how much is used

Promotional data - email open rate or website visits
Collecting and analyzing this kind of data is a game-changer for laundry business owners, as it helps to evaluate existing processes for optimization opportunities and make informed decisions for the improvement of your laundromat operations.
The Digitization of Laundromat Operations
While we like to use the phrase "the future of laundromat management," the digitization of laundry is here now, and if harnessed correctly, it will transform your laundromat operations to be prepared for the future.
Speed
Improving the speed of your laundromat operations is not only about going faster — it's about the acceleration of business tasks without sacrificing quality or losing insights.
Owner benefit: By embracing digital elements of laundromat management, owners and their team can complete tasks much faster than with manual techniques without losing quality.
Customer benefit: Whether utilizing self-serve or pickup and delivery through your app, customers can get laundry done much faster with better hardware, software, and connectivity.
Convenience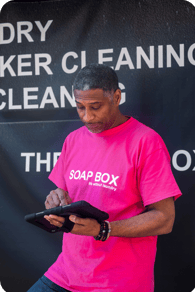 For laundry business owners, convenience comes in the form of flexibility in how and where they work. By integrating a sophisticated laundromat management system into your laundromat operations, owners can have the flexibility and convenience to perform business tasks from anywhere.
Owner benefit: Rather than manually organizing inventory data, employee performance numbers and other important information, laundromat management technology conveniently collects, analyzes, and centralizes everything for you in one location, giving owners the ability to complete tasks from anywhere at any time.
Customer benefit: That same convenience and flexibility are important to laundry customers. Digital laundromat capabilities provide the convenience of paying with a credit card in-store or placing orders online and having their laundry picked up and delivered right back to their front doors.
Geography
Within such a locally-driven industry, laundromat owners rely heavily on the customers within a specific geographic radius. Incorporating digital elements makes it much easier for laundry business owners to expand the areas in which they can gain new customers.
Owner benefit: Centralizing all business information into one digital location makes it much easier for laundromat owners to expand to multi-store locations, offer pickup and delivery services within a broader geographic radius, and gain customers within new and different demographics.
Customer benefit: When laundromats expand the area in which they operate, it provides increased laundromat options customers can choose from. Even if a laundromat is a little bit further away than they would prefer, customers will pay a higher price point for premium, high-quality services such as wash-dry-fold or pickup and delivery.
Control
While many get into the laundry business for passive income, Kathy will tell you, "It's anything but passive." In order for laundromat business owners to truly reap the benefits of the industry, they need to have complete control over every element of their operations.
Owner benefit: With eyes on every step of business operations, owners have much greater and more direct control over data that's collected and how it is used, empowering them to make better-informed business decisions and improve their laundromat management.
Customer benefit: With digitization comes greater power for the customer to choose how and when their laundry is done, whether they choose to do their laundry themselves with self-service or have their laundry picked up, washed, dried, folded, and delivered to their doors.
Cents' All-in-One Laundromat Management System
By aggregating all employee, customer, financial, and location data into one centralized place, laundromat business owners can enter into a new and empowering understanding of their business. Cents offers the all-in-one laundromat management system that empowers laundromat owners and operators to effectively manage every element of your laundromat, including:
Employees in every store

Varying demographic customer behaviors

Financial activity

Multi-store locations

Operations and performance
Bring Your Laundromat Operations into the Future with Cents
The future of laundry is booming with possibilities for laundromat owners to embrace. In order to harness those opportunities to their fullest extent, owners need their laundromat management and operations techniques and technologies to evolve and scale with their business and the industry. To learn more about how Cents' all-in-one laundromat management system can transform your business, schedule a demo today.