When you're the owner of a laundry business, volume is the name of the game. Adding additional services like on-demand laundry pickup and delivery creates an extra source of revenue and helps you stand out from your competitors, which puts you on the path to being the best laundromat in town.
Restaurants and grocery stores have partnered with UberEats and Instacart to pioneer on-demand delivery and reduce operating costs. While gig economy technology has transformed various industries, the laundry industry has remained behind. To meet the demands of customers and improve their experience, the laundry industry should adopt on-demand laundry pickup and delivery services.
Today's ride-sharing networks like Uber and DoorDash lower the barrier to entry for most laundromats, allowing them to adopt a delivery model. With a laundromat software platform like Cents, laundromat owners have the framework to offer cost-effective pickup and delivery services.
What is laundry pickup and delivery?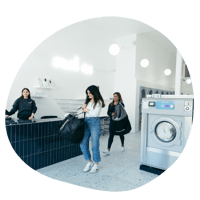 As implied by the name, laundry pickup and delivery is an on-demand service where laundromats send drivers to people's homes to collect their laundry, bring it back to the laundromat, and then deliver it back to their doorstep clean. It provides a solution for people who do not have the time, energy, or ability to do laundry. Taking advantage of a laundry delivery service helps busy people accomplish more in their day and provides a new revenue stream for your laundromat business. It's not a new idea, but technology presents an opportunity to make it easier to implement and manage.
Laundry pickup and delivery is the fastest-growing trend in the industry. The desire for on-demand delivery has been accelerated due to the rise in dual-income households, the millennial culture shift, increasing digital transformation, and the pandemic. Even those with in-unit laundry machines in their homes want to outsource it — it's a big deal.
Benefits of a laundry pickup and delivery service
If you look at the advantages of on-demand laundry pickup and delivery services offers an array of important advantages for both consumers and laundromat owners. Here's a detailed look at some of the most enticing benefits:
Time-saving convenience for busy individuals and families
With work, family, school, and countless other responsibilities, finding the time to wash, dry, and fold laundry can be a challenge for many households. An on-demand laundry pickup and delivery service is a great solution to chore-related stress. Customers can schedule a pickup at their convenience, eliminating the need to spend time going to the laundromat or waiting around for laundry cycles to finish. This is especially valuable for busy professionals, parents juggling chores and childcare, and seniors who may have mobility difficulties.
Increased productivity and freedom for customers
By handing over their laundry chores to professionals, customers can focus on the truly important things in their lives, whether that's advancing their careers, spending quality time with loved ones, pursuing hobbies, or simply relaxing. A laundry pickup and delivery service is incredibly valuable because it allows customers to reclaim their time and use it for what they're passionate about.
Increased revenue opportunity for laundromat owners
No matter how you look at it, on-demand pickup and delivery service can significantly increase a laundromat's earnings, as long as it's executed well. Not only does this service attract new customers who prioritize convenience and have the pockets to pay for it, but it also positions laundromat owners to drastically increase their customer base. Moreover, pickup and delivery services typically charge a premium over standard self-service laundry, providing an additional, perhaps more lucrative, source of revenue.
Competitive advantage
In a saturated market, offering pickup and delivery services can help laundromats stand out from the local competition. It's an additional service that many laundromats don't offer, making it a decisive edge up. Plus, customers who enjoy the convenience of laundry pickup and delivery are likely to become repeat customers and recommend the service to others, providing free word-of-mouth advertising.
Streamlining operations
Starting a pickup and delivery service can actually streamline your business operations. For example, by scheduling pickups and deliveries, laundromats can map out their workloads and manage their resources like never before. The resulting improvements in efficiency can lead to cost savings and increased profits over time.
How laundry pickup and delivery works
Integrating laundry pickup and delivery service into your business operations might seem daunting, but with the right software and processes in place, it's straightforward. Here's a step-by-step guide on how this service works, from scheduling a pickup to delivering clean laundry:
Scheduling a pickup: Customers can schedule a pickup through your website, where they'll select a convenient date and time for laundry collection. Some services even offer the ability to select preferences for washing, drying, and folding.

Laundry pickup: On the scheduled day, a driver from your laundromat or third-party delivery service will go to the customer's home to collect their laundry.

Cleaning the laundry: Once the laundry is back at your store, your staff sorts and cleans it according to the customer's preferences or the standard practices you've established.

Preparing for delivery: After cleaning, the laundry is folded and packed, ready for delivery. The delivery details are logged into the system, and the customer is notified that their laundry is ready for delivery.

Delivery of clean laundry: The driver delivers the clean, folded laundry back to the customer's doorstep at the predetermined time. Depending on your system, the customer may receive a notification confirming the successful delivery.
The key to managing this entire process efficiently is utilizing the right technology and software. Laundry business software like Cents plays a vital role in managing pickup and delivery orders. This type of platform allows customers to easily schedule pickups and deliveries and pay for the service online, while also providing you with an organized system for tracking orders, optimizing routes for drivers, and managing customer preferences and communication.
With an easy-to-navigate interface, customers can create an account, place orders, and track their laundry's progress. On the other hand, laundromat owners can use the platform to monitor all orders in real-time, manage logistics, and keep their customers informed every step of the way. This automation reduces errors, saves time, and ultimately contributes to a better customer experience.
By integrating technology into your business operations, you can streamline the process, enhance customer satisfaction, and ultimately drive more profits to your laundromat business.
Transform your operations with laundry delivery services
Before going live with any new service offering, it's important to start by understanding who your customers are and their laundry needs. Understanding your Total Addressable Market (TAM) and using insights can help you start your new delivery service offering on the right foot. Take some time to answer the following questions when planning a new offering like on-demand laundry pickup and delivery:
What is the population of your area?

What is the average income of your customers?

How much are they willing to pay for laundry services?

What is the size of your customers' families?

Do they live in houses, apartments, or college dorms?

Is your laundromat located near residential communities, commercial office space, college campuses, or some combination of the three?
Tapping into local resources, the existing gig economy, and last-mile logistic networks already in use within your region can be a huge cost-saver and revenue driver for your laundromat business.
Cents combines the gig economy model with your laundromat operation — this is where the innovation comes in. Laundry pickup and delivery is an old feature, but it used to take carefully scheduling routes, maintaining a fleet of vehicles, and hiring reliable drivers. With Cents and the gig economy, laundromats can leverage modern technology and integrations that drive more volume from on-demand delivery to your business without losing revenue. Laundromat owners can provide convenience to customers at no cost to themselves, and offer this service to customers at low costs. Essentially, Cents has removed the hard part of incorporating laundry pickup and delivery while making it an on-demand option.
Flexible laundry pickup and delivery options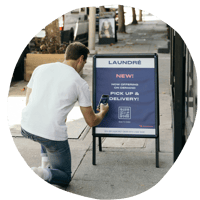 Laundry does not need to be delivered hot out of the dryer. Laundromats have the flexibility to offer scheduling options such as same-day, next-day, or two-day turnaround.
Suppose your laundromat is located around commercial office spaces or college campuses. In that case, you may consider offering bundled deals to local businesses or universities where teams or students can take advantage of on-demand delivery at home, at work, or at school. This keeps your laundromat top of mind in the community and gives busy customers one less task to worry about.
How to start laundry pickup and delivery at your laundry business
Once you've assessed the demand for pickup and delivery, let's outline what it takes to start on-demand pickup and delivery.
Choose the right software to manage your laundromat business.
The software you choose is vital to the success and size of your laundry delivery service. It will be the heart of your operation, so it is important to choose the right software.

Build your website.
You want to make sure that customers are able to order your services online through your website so you'll need to integrate your software into your website.

Hire your employees.
At a minimum, you'll need to fill a laundry intake, wash-dry-fold, and a driver (unless your software utilizes the gig economy like Cents does. Then you don't have to worry about the vehicles or who's behind the wheel).

Market your services.
Create good signage, utilize digital advertising, upsell current customers, and take advantage of their referrals — read our whitepaper to learn how to get started marketing your laundromat without spending any money.

Improve your operations every day.
A laundry pickup and delivery business is not a set-it-and-forget-it business. It's crucial to continue to look for ways to improve every day.
Cost considerations and pricing models
When building a laundry pickup and delivery service, there's no getting around the costs associated with it, so it's important to develop a competitive and profitable pricing model.
These are some of the biggest factors affecting the pricing of these services:
Operational costs: These include the washing, drying, and folding processes, which hinge on the volume of laundry you intake. Fuel, vehicle maintenance, and driver wages are also major considerations.

Overheads: Remember the indirect costs of running your business, such as rent, utilities, insurance, and marketing. Adding pickup and delivery to your stack of services will need to be factored into your overhead costs.

Market rates: Take a look at what your competitors are charging for similar services. Keep in mind, you don't have to match their prices, but you should avoid charging significantly more or less than the typical market rate.

Quality of service: If you're offering premium service (like special care for delicate fabrics or high-quality sneaker cleaning), you can charge higher rates. Just make sure to communicate the added value to your customers so they aren't blindsided.
Once you've considered these factors, you can decide on a pricing model that works for your business. Here are the most popular routes:
Per pound: This is the most common pricing model for laundry services. Customers are charged a set rate for each pound of laundry.

Per item: With this model, different items of clothing have different prices. This is often used for dry cleaning services or when special care is required for certain items.

Subscription-based: This model provides regular, scheduled pickups and deliveries for a monthly fee. This is a reasonable option for customers who have a regular cadence of laundry needs and offers a steady income stream for your business.
When it comes to pricing, transparency is key. Make sure that your prices are clear to your customer base by posting them on your website and all other customer touchpoints. You should make it as easy as possible to know what they're paying for. This will build trust and allow you to negate any potential confusion down the road.
By carefully considering your costs and choosing a smart pricing model, you can turn your laundry pickup and delivery into a well-oiled machine.
Pickup and delivery timeframes
Pickup and delivery turnaround times can vary depending on the types of services requested, and customers' schedules and preferences. Fret not—there's a way to manage different timeframes and offer flexibility to your customers:
Different turnaround times for types of laundry services: The turnaround times fluctuate depending on the service. For instance, standard wash-dry-fold services are usually quicker to complete than services requiring special care. Make sure to clearly communicate the differences in timeframes to your customers when they schedule a pickup to set the right expectations.

Flexible pickup and delivery options: Customers love convenience, so offering a wide range of time slots is a must in order to accommodate different schedules. Consider offering morning, afternoon, and evening options.

Same-day or next-day service: For customers who need their laundry done quickly, you should offer same-day or next-day service as an option. This would involve a quicker turnaround, but it's well worth the added profit margin from the expedited process.

Express or urgent delivery for VIP customers: Commercial customers may need an express service, where their laundry is prioritized over others. This could include hotels needing linens cleaned overnight or a business requiring clean uniforms for the next day. This VIP service can help to solidify massive relationships with lucrative clients and could very easily be offered at a premium rate.
The key to successful pickup and delivery timeframes is effective communication. By providing a number of options and remaining transparent about timeframes, you can meet your customers' needs and increase overall satisfaction.