When you're the owner of a laundry business, volume is the name of the game. Adding additional services like on-demand laundry delivery creates extra sources of revenue and helps you stand out from your competitors, making your business the best laundromat in town.
Restaurants and grocery stores have partnered with UberEats and Instacart to pioneer on-demand delivery and reduce operating costs. While technology has transformed various industries, the laundry industry has remained behind. To meet the demands of customers and improve their experience, the laundry industry should adopt on-demand laundry delivery services.
Today's ride-sharing networks like Uber and DoorDash lower the barrier to entry for most laundromats, allowing them to adopt a delivery model. With a laundromat software platform like Cents, laundromat owners have the framework to offer cost-effective pickup and delivery services.
What is Laundry Delivery?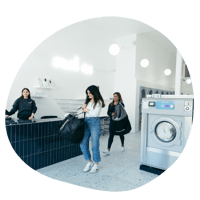 A laundry delivery service provides a solution to people who do not have the time, energy, or ability to do laundry. Taking advantage of a laundry delivery service helps busy people accomplish more in their day. It also provides a new revenue stream for your laundromat business.
Delivery is the fastest growing trend in the industry. The desire for on-demand delivery has been accelerated due to the rise in dual-income households, the millennial culture shift, increasing digital transformation, and the pandemic. Even those with in-unit laundry machines in their homes want to outsource it.
Transform Your Operation With Laundry Delivery Services
Before going live with any new service offering, it's important to start with understanding who your customers are and their laundry needs. Understanding your total addressable market (TAM) and using insights can help you start your new delivery service offering on the right foot. Take some time to answer the following questions when planning a new offering like on-demand delivery:
What is the population of your area?

What is the average income of your customers?

How much are they willing to pay for laundry services?

What is the size of your customers' families?

Do they live in houses, apartments, or college dorms?

Is your laundromat located near residential communities, commercial office space, college campuses, or some combination of the three?
Tapping into local resources, the existing gig economy, and last-mile logistic networks already in use within your region can be a huge cost-saver and revenue driver for your laundromat business.
Cents combines the gig economy model with your laundromat operation. The powerful duo presents a new way to leverage modern technology and integrations that drive more volume from on-demand delivery to your business without losing revenue. Laundromat owners can provide convenience to customers at no cost to themselves, and offer this service to customers at low costs.
Flexible Laundry Delivery Options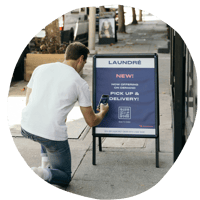 Laundry does not need to be delivered hot out of the dryer. Laundromats have the flexibility to offer scheduling options such as same-day, next-day, or two-day turnaround.
If your laundromat is located around commercial office spaces or college campuses, you may consider offering bundled deals to local businesses or universities where teams or students can take advantage of on-demand delivery at home, at work, or at school. This keeps your laundromat top of mind in the community and gives busy customers one less task to worry about.
How to Start Laundry Pickup and Delivery at Your Laundry Business
Once you've assessed the demand for pickup and delivery, let's outline what it takes to start on-demand pickup and delivery.
Choose the right software to manage your laundromat business.
The software you choose is vital to the success and size of your PUD business. It will be the heart of your operation, so it is important to choose the right software.

Build your website.
You want to make sure that customers are able to order your services online through your website so you'll need to integrate your software into your website.

Hire your employees.
At a minimum, you'll need to fill a laundry intake, wash/dry/fold, and driver. ​​

Market your services.
Create good signage, utilize digital advertising, upsell current customers, and take advantage of their referrals.

Improve your operations every day.
A laundry pickup and delivery business is not a set-it-and-forget-it business. It's crucial to continue to look for ways to improve every day.
Driving Down Laundromat Costs with On-demand Delivery
Pickup and delivery has been relatively unchanged for the last two decades. Some companies take calls and help place delivery orders, but a common model is to outsource the delivery and marketing. This can consume up to 30% of your revenue. Van or car expenses, insurance, drivers, gas, and managing accidents, emergencies, or liabilities can destroy your margins. While it can boost a laundromat's volume, there's a risk of lowering its returns.
On-demand delivery modernizes how laundromat owners can expand TAM. Your laundry business can drive more volume to your laundromat without the outsourced expenses or capital expenditures. This model makes it profitable for owners and easy for customers to take advantage of on-demand delivery.
If you're been wanting to get into pickup and delivery, on-demand delivery gives you the opportunity to prove the demand, hone the pricing, and identify the geographic areas that provide the highest ROI. Since you can subsidize the fee, you have the freedom to give pickup and delivery a real try without any cost to you.
Make your laundromat the best in town by harnessing the power of the Cents platform and no-cost delivery service. Learn more about the 5 keys to starting pickup and delivery services at your laundromat.