Laundromats have been a mainstay in American society for nearly a century. Nostalgia aside, this is a great sign for entrepreneurs looking for their next solid, dependable investment. Amidst an unpredictable economy and an uncertain future, opting for a line of business that's weathered just about every economic storm is a good bet.
That's not to say blazing your own trail in the laundry industry is an easy feat. It requires comprehensive market research, considerable start-up costs (usually), and a pair of greased elbows to get the business launched. If you have the right stuff, owning a laundromat can help you earn passive income with relatively low operational costs after setup and rake in big margins (we're talking 20 - 35%, on average). On top of that, you'll be weaving yourself into a historical staple of American society, wrought in the Great Depression and designed to provide a necessary service to busy American professionals and families. By opening a laundromat you can make good money, thrive through economic strains, and help make people's lives easier.
If the talk about laundry has piqued your interest, this is your ultimate guide for how to start a coin laundromat business. You'll learn about the components of a strong business plan, what type of licensing you need, types of equipment and supplies to outfit your store with, setup necessities and costs, marketing strategies, and tips for ongoing maintenance.
Steps to start a coin laundromat:
Conduct local market research
The promise of a fruitful venture is paved by your very first step: forming a deep understanding of the laundry industry in your desired area. An audit of your local competitors and the location you ultimately choose are the two major factors that can make or break you before you even have the chance to complete your first wash cycle.
Importance of market research in the laundromat business
Laundromats rely predominantly on local customers. In fact, it's estimated that 87% of customers live within a mile of the facility. Understanding your local market means anticipating the needs of the very people who will walk through your doors. For example, is your target demographic more inclined towards eco-friendly wash cycles, or are they looking for rapid, efficient services? Without insights like these, even the most sophisticated machines or welcoming interiors might fail to keep customers returning.
Plus, getting the pulse of the local market can guide decisions on pricing, hours of operation, and additional services, such as dry cleaning, tailoring, sneaker-cleaning, wash-and-fold, or pickup and delivery, ensuring you meet actual community needs rather than perceived ones.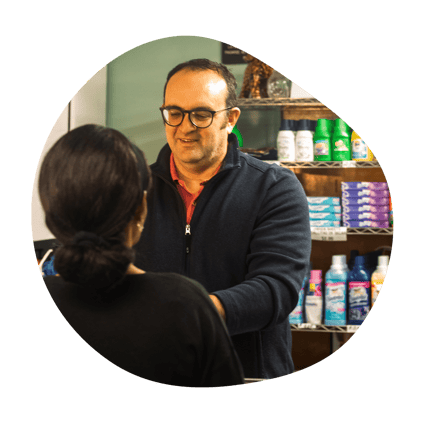 Collect the right data
Before you start to write your business plan, you need to confirm the region you're targeting can accommodate another laundromat. Industry experts suggest that one laundromat can effectively serve approximately 2,000 to 3,000 people. So, in a metro area with a population of 100,000, for instance, you might expect between 33 to 50 laundromats to serve the community adequately. If the math works out in your favor, you can begin thinking about more granular data:
Laundromat demographics
The demographic profile of your target area will influence numerous aspects of your laundromat. For example, low income renters are the primary users of coin laundries, with median household incomes of $28,000, on average. Here are some other demographics to consider:
Young professionals might desire late-night services or app-based booking.

Families might prioritize large-capacity machines or play areas for kids.

Student populations might be looking for budget-friendly options.
Read more: Understanding Laundromat Demographics: Guide to Knowing Your Customers
Competition
An in-depth competitive analysis will arm you with a look into what's working and what's not in the established local laundromats. You're in the fortunate position to iterate on what resonates in your neighborhood. Make sure you know:
How many laundromats are in your target area?

What services do they offer?

Are there any gaps in their services that you can capitalize on?

What are the common customer complaints or praises in online reviews?
Location analysis
Location, location, location! This old adage rings particularly true in the laundromat industry. It comes down to more than just real estate; it's about accessibility and convenience.
Is the potential location easily visible and accessible?

Are there sufficient parking spaces?

What is the foot traffic like? Is it near residential areas or businesses that could benefit from a laundromat, such as gyms or coffee shops?
A strategic location can be a game-changer, turning occasional visitors into loyal customers.
Build a business plan and find a location
A thorough business plan provides the building blocks for the well-oiled machine of a laundromat you're destined for. And the market research you conducted previously will help shape your business plan and set you up for data-driven success. If this step is given the time and thought it deserves, you can join the ranks of laundromat investors who consider it a part-time job and earn passive income through their venture!
Here are the essential components that make up your laundromat business plan:
1. Business model
Start with a clear business model that outlines your target audience, services you plan to provide, and financial goals and expectations. This section of your business plan will take into consideration start-up costs and expected business expenses like equipment, utilities, renovations, licensing and permits, and supplies. Consulting a coin laundry lender or business advisor can assist you in refining this model.
Read more: A Step-by-Step Guide to Starting a Successful Laundry Business
2. Laundry services
There are various types of laundromat services. If you're planning to open a coin laundry business, you'll be mapping out a self-service model in this section of your business plan. While you plan to use this as the basis of your service, you may also want to add auxiliary services to your business depending on the demographics you'll serve.
3. Market research
The market research you conduct will play a vital role in your business plan. This is where you'll define your niche (or unique value proposition) and how you'll provide in areas that your competitors don't. Documenting your competitors' services and pricing structures will help you determine what you should bring to the table and how much to charge for your services. Generally speaking, you should not be heavily undercutting your competitors nor overcharging.
4. Location
The right location can make or break your business. But what makes a location for your laundromat just right? Look for areas with:
Close proximity to target demographics: Depending on your chosen clientele, set up close to apartment buildings, trailer parks, universities, and low-income housing.

Neighborhood analysis: No matter where you decide to start your shop, take an audit of the ages, income levels, and other demographic factors that exist in your area.

Competition assessment: Survey the area for other laundromats. Too many competitors nearby will dilute your customer base, but a complete lack of laundromats could indicate that the location isn't ideal for the business.

Premises selection: Once you've shortlisted neighborhoods, you can search for the perfect premises. Look for places with good visibility, easy access, and ample parking. You may even be able to find laundromats for sale. No matter which route you go, the layout and size of the location should meet the needs of your business model and the number of machines you intend to have.
5. Financing your venture
To get your business off the ground, you might need external financing. Consider bank loans, business lines of credit, lenders who work specifically with laundromats, or even seeking out angel investors who see potential in your venture. In the next section we'll explore your financing requirements and options in the next section.
Read more: How Much Money Can a Laundromat Make?
Here's a helpful infographic from Laundromat Resource that can help guide you in your initial steps toward opening a laundromat:
Secure financing and licenses
Now, let's get into the nitty gritty of laundromat financing and licensing. Laundromat start up costs can be steep, ranging from $100,000 to $300,000, on average. That's a considerable chunk of change; so it's important that you educate yourself on all your financing options (unless, of course, you plan to buy with cash). In addition to considerable start up costs, establishing a laundromat requires specific paperwork. Keep reading to get the full run-down.
Permits you need to start a laundromat
It may not be the most exciting part of opening a coin laundromat business, but gathering licenses and permits is as necessary a step as any other. Here are the essential documents you'll need to complete:
Laundromat license: No matter what type of laundromat LLC you plan to open, whether it be coin-operated or pickup and delivery, you'll need to obtain an appropriate laundromat license.

Sales tax permit: If you're planning to offer additional services in your laundry business, such as selling detergent or offering a wash-and-fold service, you'll need a sales tax permit.

State and local permits: The requirements for permits and licenses vary by state. It's always a good idea to contact your Secretary of State or local regulatory body to get a clear understanding of the specific permits and licenses you'll need for your area.
Financing options
Unless you're planning on footing a six-figure bill to get your coin laundromat off the ground, you'll have to weigh your financing options. Luckily, there are different options to choose from, each with unique advantages:
Bank loans: One of the most common methods for financing a laundromat is through a bank loan, whether backed by real estate or other collateral.

SBA loans: The Small Business Administration (SBA) offers loans that are often more accessible. They provide flexible terms and can be an excellent option for financing a laundromat business.

Other lenders: There are financing solutions out there, like Cents Capital, that were designed specifically for laundromat entrepreneurs in mind. This type of loan carries low interest rates and flexible terms.
Read more: Is a Laundromat a Good Investment?
Gather essential equipment and supplies
One area where you can't cut corners in launching a coin laundromat is the investment in equipment and supplies. Going for high-quality, durable machines and essential amenities will serve your customers efficiently, give them the confidence their garments will come out perfectly clean and better than they were before, and enhance their overall experience. Here are some things to consider when equipping your laundromat:
Types of coin-operated laundry machines
Top load washers: Traditional models commonly found in many laundromats. They're known for their durability and ease of use.

Front load washers: High-efficiency machines that are typically more energy-efficient and can handle larger loads than top loaders.

Coin-operated dryers: Available in various models, including ones with porcelain enamel or stainless-steel wash drums.
Laundromat equipment lifespan
Most laundromat equipment, on average, has a lifespan of 10-15 years, which means once you make the initial investment, you're out of the woods for a good while! Keep in mind, not all equipment types are created equal. For examples, top load washers typically last 5-8 years, while front load washers can last between 10-15 years.
Other essential supplies
Cleaning supplies: Regular cleaning of the laundromat creates a hygienic environment that will give customers the confidence that their garments are in good hands.

Carts and baskets: These essentials help customers transport their laundry with ease.

Change machines: Make it easy for customers to exchange their bills for coins.

Laundry detergent dispensers: Make your laundromat a one-stop-shop, so even when customers forget to bring their detergent, they can rely on you to provide what they need to get their chore done.
If you need more convincing of the importance of high quality machines, check out this infographic from Advantage Laundry Systems:
Set up your space
Once you've purchased your top-of-the-line washing machines and dryers, you have to arrange them in a cohesive way. With a touch of laundromat feng shui, you can create an efficient environment that has a feel-good factor your customers will love. Keep reading for some tried and true tips for setting up a smart and effective laundromat layout. Let's explore the main components that will help your laundromat function seamlessly.
Guide to perfecting your laundromat layout
Begin with a clear floor plan. Ensure that your store is organized in a manner that is both efficient for operations and comfortable for customers.

Include a dedicated space for folding tables. If space is limited, consider installing shelves above the folding tables to maximize utilization and provide customers with additional storage options.

Position washing machines and dryers in a manner that allows easy access for both loading and unloading. Set them up in a way that allows customers to have plenty of elbow room and move through the store without traffic jams.

Add amenities that make your customers more comfortable. Consider additions like seating areas, vending machines, or free Wi-Fi. These can enhance your customer experience and bolster their loyalty to your business.
Implement a marketing plan
Growing a successful laundromat requires a well-planned marketing strategy, community engagement, and a forward-thinking approach to digital tools. This will allow you to stay connected and visible to your target audience and draw in new customers. Offering promotions can further incentivize customers, while strengthening an online and offline presence can significantly boost foot traffic. Here's your laundromat marketing checklist:
Determine your marketing approach
Understand your target market and choose the best methods to reach them, such as print ads, online ads, social media, email marketing, and word-of-mouth.
Community involvement
Increase brand awareness by sponsoring local events, partnering with businesses, and hosting fundraisers. Consider hosting a Free Laundry Day with the LaundryCares Foundation.
Set up your Google My Business Profile (GMB)
Creating a Google My Business profile will allow you to show up when potential customers search Google for "laundromats near me" - This is known as local SEO, and it's an important part of getting your laundromat found online
Display your business details, operational hours, and promotions.

Setup involves registering on Google Business Profile, providing business details, verifying through a mailed code, and customizing your profile.
Search engine optimization (SEO)
Laundromats are brick-and-mortar businesses, so you should focus on local SEO terms to cater to potential customers within your geographical radius.
Understand and optimize for local search terms.

Ensure consistent contact information on your website and boost your SEO impact by claiming your Google Business profile.
Read more: SEO for laundromats: How to Grow Your Website & Attract New Customers
Social media engagement
Use platforms like Facebook, Instagram, and Twitter to share updates, respond to queries, and promote your services.
Engage customers with promotions, contests, and by sharing positive reviews.

Connect with complementary local businesses and potential customer groups.

Examples of effective social media presence include laundromats like Glidewash, The Laundry Room, and The Folde.
Promotions & discounts
Attract and retain customers with various offers, such as social media contests, loyalty programs, referral discounts, special promotional days, and freebies.
Promote these offers through paid ads, flyers, visible store signage, and maintaining an updated website.

This just scratches the surface. To get an even deeper look on promotional efforts you can use to grow your laundromat, read our guide on Laundromat Marketing Strategies.

Consider ongoing expenses and maintenance
While the entry costs may feel jarring, looking at the ongoing expenses is a bit more palatable. Like any type of business, coin laundromats require monthly and maintenance costs to factor in. Here's an in-depth look at the costs, regular upkeep, and tips to maintain a clean, customer-friendly laundromat: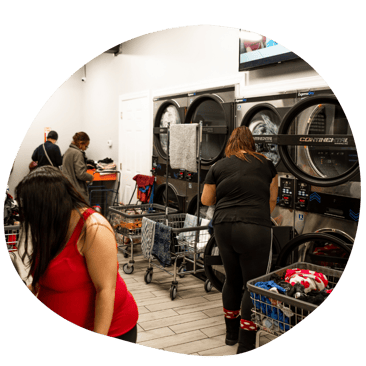 Ongoing expenses breakdown
Employee payroll: Payroll is often one of the steepest recurring expenses for any business. Luckily, laundromats typically operate with two or fewer employees, which can help in keeping payroll costs minimal.

Rent or mortgage: This can be another sizable monthly expense, which will vary depending on the size and location of your store. The good thing about this expense is that it's fixed and shouldn't be the source of any financial curveballs.

Utilities: You're in the business of significant water usage, so utility and electricity bills are an important budget item to consider.

Machine maintenance and repairs: Making sure your machines are always functional involves a solid rainy-day savings. Service calls usually range from $120 to $500 per visit, depending on the type of the repair.

Cleaning supplies and staff: Investment in supplies and possibly cleaning staff is essential.

Total average monthly costs: A typical laundromat's monthly expenses range between $4,000 and $8,500. If this feels like a lot, consider this: the average laundromat reports a net profit of between $5,000 and $7,000!
Regular maintenance schedule
Daily: Sweeping and mopping should be routine to maintain a clean environment.

Weekly: Regularly inspect machines for any signs of wear or malfunction.

Monthly: A deeper clean of the facility and a thorough check on plumbing and electrical systems is advisable.
Read more: The Ultimate Guide to Laundry Operations: Expert Tips and Tricks for Maximizing Productivity
Top tips for a clean, customer-friendly laundromat
Consistent cleaning: Your greatest skill as a laundromat owner is providing cleaning solutions for customers, so a tidy environment will reflect your quality of service and keeps customers returning.

Add amenities: Consider amenities like seating, free Wi-Fi, or vending machines to enhance customer comfort and experience.

Engage and take feedback: Invite customers to share their experiences so you can promptly and regularly address areas that need improvement.
Take action!
By now you have a solid understanding of how to open a laundromat. Starting a coin laundromat business can be a steady source of passive income without a full-time commitment. Getting your business to that point is no walk in the park, though. Success hinges on putting in the work to really understand the local market, securing a strategic location, and delivering top-notch services with quality equipment.
Ready to make your debut in the laundry industry? Get even deeper into the intricacies of what you can offer through your laundry business.

Download our comprehensive guide: How to Start, Manage, and Grow Wash and Fold