You're one of the elite few who see the financial opportunities in starting a laundry service. You have the skills and ambition to pull it off—but where to start?

The good news is, you're not on your own. With your innate business savvy and this step-by-step guide, you can start a profitable laundry business this year.

Remember: every successful laundromat business plan started from the ground up. No matter how hungry you are to open your doors for business, taking the time to build a strong foundation now will help your business thrive long term. Here are the proven steps (with a checklist to follow along) for how to successfully start a laundry business.
8 steps to starting a laundry business
1. Do your research
Rome wasn't built in a day, and such is the case for your laundromat business. Take the time to learn about the industry and most importantly, the strengths and weaknesses of your competitors.
Join the Coin Laundry Association (CLA) for a full suite of resources for both aspiring and seasoned laundromat owners. Here you'll learn the ins and outs of the industry, get updates on industry events and innovation, and score important tips from long-term laundromat owners.
Your business opportunities are dependent on your local competition. Beginning with a simple Google search, identify the existing laundromats in your area. Take note of their business names, locations, Google ratings, services, hours of business, and prices:
How does each of these laundromats compare to one another?

Do they have websites and marketing?

What is their customer service like?

What types of customers are competitors serving?

Is there room to serve these same customers with a different service, provide a different type of service to a new type of customer, or add value in other ways that are not currently being served in the market you are exploring?
Asking these questions will help you begin to determine your market opportunities.
There are also many resources and coaching opportunities in the industry. The Laundromat Resource and Laundromat Millionaire both provide a wealth of insight into the industry, getting started, and creating financial freedom.
2. Decide what kind of laundry business you want to start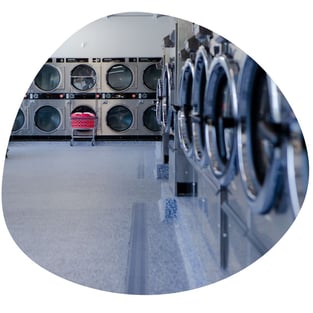 When you picture a laundromat, a single image likely comes to mind: a storefront sandwiched between something like a deli and an apartment building, full of rows of whirring machines, welcoming local residents and their dirty clothes and week-old bed sheets. Sure, this is a really common laundry business type, but you have options beyond that.
The most common laundry services include:
Coin laundry: As described in the scenario above, this is a public service designed for anyone needing self-service laundry.

Private laundry within multi-tenant buildings: The laundry room nested inside apartment buildings that don't have in-unit laundry available.

Commercial laundry: Specifically for uniforms, restaurant and hotel linens, and other industrial laundry needs.

Wash and fold service: The luxury standard of laundry services. While coin laundry is a DIY service, wash and fold takes the burden off the customer and puts the laundry pros in charge of cleaning. Of course, you can charge more for a service like this.

Pickup and Delivery: A full-service experience. Pickup and delivery is the step up from wash and fold, which allows you to pick up their laundry for them, wash it, and deliver it back to their doorstep. It allows you to tack on extra charges and doesn't force the customer to lift a finger.
3. Buy a Laundromat
As you explore your options for getting into the laundromat industry, you might decide you want to purchase an existing business rather than starting from scratch. This path can be a time-saver and also comes with its own unique set of opportunities and challenges.
How to Buy a Laundromat
Purchasing an existing laundromat isn't as simple as handing over a check; it needs careful planning, research, and due diligence. Here's the general process:
Find a Laundromat for Sale: The first step is to find an existing laundromat that's up for sale. You can do this through online business marketplaces, local classifieds, or with the help of a business broker.
Due Diligence: Once you've found a laundromat you're interested in, it's time to dig deep into the financials and other details of the business. Look at the revenue, expenses, cash flow, and profit margins of the laundromat. Consider hiring an accountant or business appraiser for a professional assessment. Be sure to consider tips on

conducting comprehensive due diligence

.
Finalize the Purchase: If everything checks out and you're happy with what you see, the next step is to negotiate a fair purchase price. From there, you'll go under contract, arrange financing if necessary, and eventually close the sale.
Benefits and Drawbacks of Buying an Existing Laundromat
Benefits:
Established Customer Base: One of the biggest advantages of buying an existing laundromat is that it comes with a pre-existing customer base and equipment. This means you'll have revenue from day one.
No Need for Initial Setup: All the hard work of finding a location, securing permits, and buying equipment has already been done. You can jump right into running the business.
Existing Systems and Processes: The previous owner will likely have systems and processes in place for managing the business, which can make your transition smoother.
Drawbacks:
Old Equipment or Undesirable Location: You might inherit outdated equipment that requires replacement, or the laundromat might be in a location that isn't ideal.
Hidden Costs: Be wary of hidden costs such as unpaid bills, pending legal issues, or necessary upgrades.
Working with Brokers
A business broker can be an invaluable resource when buying a laundromat. They can help you find businesses for sale, guide you through the due diligence process, and assist with negotiations and closing procedures.
When choosing a broker, look for someone with experience in the laundromat industry, a solid reputation, and a track record of successful transactions. Remember, a good broker works for both the buyer and the seller, aiming to facilitate a fair and mutually beneficial deal.
4. Choose a name for your laundry business
A great company name encompasses what your business does! There are a few different directions you can take with naming your laundromat. If it's not already taken, you can use the name of your town or city followed by "laundromat," or you can get a little more creative with it if that suits you. Either way, your business name should tell your customers, unmistakably, that you offer laundry services.
Another good tip is to use proper spelling in your name so you're easy for customers to find when searching on Google. If you're stumped, check out this laundromat name generator for inspiration!
5. Create a laundry business plan for success
Your business plan is like a compass. It should define in detail your company's objectives and how you're going to reach them. Whenever you make a decision for your laundromat business, turn to the business plan!
Consider these points on your journey to a profitable laundromat.
Mission statement
Your mission statement is a declaration of your business' culture, values, and purpose for existing. This will act as your north star in all business dealings.
Services & pricing
Define concretely what services you plan to provide. Determine pricing and the products you'll need to carry out your laundry services. In the laundromat industry, pricing is directly related to the quality of service you provide, the customer experience, and the market that your laundromat is operating within.
Customer experience
Decide what kind of customer service you want to emulate in your business. Ask yourself: how do I want my customers to feel when they experience my laundry services?
Market analysis
Describe what you know about the laundromat industry. And more importantly, identify how your business model fills a niche in the local market. Confirm that your laundry business will solve a problem or fulfill a need in your local area. Your success depends on supply and demand!
Financial plan and budget
Record all your financial statements, balance sheets, and expenses included in establishing your business. This is also an opportunity to create sales targets for your first few years of business. When building your budget, include costs related to employees, equipment, maintenance, permits and licensing, marketing, utility costs, and all other overhead needed to run your business. If you think you'll need financing assistance, you'll want to work with lenders that know the industry.
6. Laundromat Business Cost
Building a solid understanding of the costs involved in starting a laundromat is essential to the success of your business venture. Here are some of the main cost considerations:
Initial Costs
Location: The leasing or purchasing of premises for your laundromat can vary greatly based on location, size, and condition of the property. A suitable space could cost anywhere from $100,000 to $200,000 to purchase, while leasing can range from $2,000 to $10,000 per month, depending on the size and location of the property.
Equipment Costs: Commercial-grade washing machines and dryers can range from $1,000 to $10,000 each. For a modest laundromat with 15 washers and dryers, the equipment cost could be around $75,000.
Renovation or Setup Costs: Depending on the condition of the premises, the costs to renovate and set up your laundromat can be considerable. These costs, which include plumbing, electrical work, and installation of equipment, could range from $200,000 to $500,000.
Licensing Fees: Business licenses and permits are a necessary part of starting any business. These can go from $100 to $500 depending on your location.
Marketing and Advertising Costs: A budget for your grand opening, initial advertising, and ongoing marketing efforts is necessary for getting the word out about your new laundromat. You should budget at least $1,000 to $2,000 for your launch and plan for ongoing marketing costs.
Recurring Costs
Utilities: Utilities are a significant recurring expense for laundromats, as your washing machines and dryers will use substantial amounts of water and electricity. These costs can vary greatly, but you can expect to spend several thousand dollars per month on utilities.
Maintenance and Repair: Regular maintenance is essential to keep your machines running smoothly, and unexpected repairs can add up. Plan for this cost to be around 20% of your gross revenue.
Staffing: If you plan on having staff, this will be another monthly cost. Depending on how many employees you have and their hourly wage, this could range from $1,000 to $4,000 per month.
Rent or Mortgage: If you're leasing your premises, you'll need to include the rent in your costs. If you've taken out a loan to buy your premises, you'll have mortgage payments.
Insurance: Business insurance can cost anywhere from $500 to $2,000 per year for a laundromat, depending on a variety of factors including location, size of your laundromat, and coverage levels.
Financing Options
Common ways people finance their laundromat businesses include small business loans, personal savings, or investor capital. Small business loans, particularly those backed by the Small Business Administration (SBA), can be a great way to get the funding you need.
If you're considering purchasing new equipment, Cents Capital can provide financial assistance, offering competitive financing options designed to help entrepreneurs start and expand their laundromat businesses.
Find a location that checks all the boxes
Location, location, location! Searching for the perfect spot is one of the most important uses of your time in planning your laundromat business—and one of the biggest factors in your chances for success. Choose a location heavily populated with apartment residents, college students, tourists, hotel and motel visitors, and big families. Keep in mind, though, it's not as simple as picking a storefront on the most desirable block—you must learn the ordinances and laws that determine where laundromat businesses can operate in your local area.
You should also familiarize yourself with local zoning laws and historical challenges before settling on a spot. One way to make this simpler is by buying an existing laundromat, rather than opening a brand-new one.
6. Acquire the appropriate permits
Look into the state or local business administration for important information on licenses needed to run a coin-operated laundromat in your area. There may be specific permits you must get in order to be compliant with laws like how to manage wastewater. Figuring out what your business requires to operate legally can be tedious and confusing, so refer to the U.S. Small Business Administration (SBA) to learn what forms you need to fill out.
7. Purchase the equipment for your laundromat
If you build it, they will come. Your laundromat doesn't need to be the Field of Dreams, but outfitting it with high-quality, easy-to-use machines is a must! Whether you need to buy all or some new equipment depends on if you are planning on opening a laundromat or buying an existing one.
Keep in mind, the laundry industry is not one known for its cutting-edge technology. So even if you buy an existing laundromat full of machines, you'll likely need to buy some new equipment. This may seem expensive at first glance, but what's even pricier is having to constantly repair broken machines or lose customers due to a lack of available, working washers and dryers.
When shopping for machines you have options. Smaller machines can sell for under $1,000 a pop, while bigger ones can go for upwards of $5,000 to $10,000 each. What you choose to purchase will depend on a variety of factors including the size of the population you plan on servicing, how much space you have in your store, eco-friendly options, and your budget.
Cents has built a network of distributors across the country. If you're looking to purchase new equipment, reach out to us and we can help connect you to the right distributor to fit your laundromat.
8. Create a marketing plan for your laundromat
Laundromats might serve as a quintessential retro backdrop, but your approach to getting and keeping customers should be as modern as it gets. And don't get caught kicking the can down the road—even before opening your doors for business, you should have a solid marketing plan in place. Use these tried and true methods for marketing your laundromat and you'll be one step closer to success:
Get involved in your community: Make yourself more recognizable by sponsoring local events, partnering with other businesses, and hosting charity fundraisers at your laundromat.

Create a Google Business profile: When customers search "laundromats near me" in their web browser, your business will pop up. You'll be able to showcase pictures of your laundry business, the address and phone number, hours of operation, and even promotional offerings.

Set up Search Engine Optimization (SEO): You're serving a specific geographic radius and therefore rely heavily on local customers being able to find your business. That's why you'll want a strong SEO strategy. This will push your business to the top of the search result pages and help you convert more customers.

Leverage social media: This will help you connect with potential and current customers and promote your business. Social platforms like Facebook, Twitter, and Instagram let you share photos and information about specials, new services, or upcoming events. This is also a great avenue to communicate with your audience.

Run discounts and promotions: Offering discounts on your services allows you to lure new customers in and convince them to give your business a shot. This is a great marketing tool and an even better way to increase your customer base.

In this white paper, we discuss 5 great marketing tactics that cost little to no money and don't require "digital sophistication" to yield benefits for your laundromat.