If you're looking for unique laundromat business ideas to set your business apart from the competition, you've come to the right place. In this blog post, we will discuss a few unique services that you can add to your laundromat that will attract new customers and help your business thrive.
1. Pickup and Delivery
Adding a pickup and delivery service to your laundromat is a great way to improve convenience for your customers. With this service, customers can have their clothes picked up and delivered back to them clean and fresh. This service is great for busy people who don't have time to go to the laundromat and are looking for that next level of service.
How to Launch Pickup and Delivery at Your Store
Cents spoke with Waleed Cope from The Soap Box and Sivan Salem of Cents about how you can grow your laundry business with pickup and delivery using 5 key practices. They also discuss incorporating the gig economy to launch this service.
2. Hybrid Laundromat
Another unique service that you can offer is a hybrid laundromat. This can come in many different forms. A few different hybrid laundromat ideas include:
Laundromat cafe
Laundromat coffee shop
Laundromat bar
Laundromat bakery
Laundromat convenience store
Including a cafe or bar in your laundromat can increase the overall satisfaction your customers may have and increase their spending. Customers can buy a drink and relax while waiting for their laundry to be done.
This also could open up a larger customer base. Getting more purchases from existing customers is a great way to increase revenue. This could be a great way to attract new customers and keep them coming back.
3. Sneaker Cleaning Service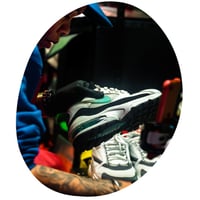 If you're looking for unique laundromat business ideas that will set your business apart from the competition, consider offering a sneaker cleaning service. This is a great way to attract those who are passionate about their sneakers and want to keep them looking clean and new.
The Soap Box in Brooklyn, NY is a great example of what running a successful sneaker cleaning service could look like. Check out their service here.
4. Commercial Wash and Fold
Another great service to offer is commercial wash and fold. This is a great option for businesses who need their employees' clothes to be clean and well-pressed. Working with local businesses to help keep their employee's uniforms clean and well maintained is a great way to build relationships and grow your business.
Offering a commercial wash and fold service can be a great way to differentiate your business from the competition while providing you with more opportunities to increase your revenue.
5. Eco-Friendly Options
In today's world, it's important to be eco-friendly and offer options that are good for the environment. There are many ways to make your laundromat more eco-friendly, which include:
Offering energy-efficient washers and dryers
Using eco-friendly detergent and soaps
Installing solar panels
Offering a recycling program
6. Vending Machines and Games
Adding vending machines and games to your laundromat business can be a great way to increase revenue. Vending machines are a great way to offer your customers additional services and products while not requiring an employee to watch over them (like a small convenience store). By having a variety of vending machines available, you can cater to the needs of your customers.
Adding coin-operated games is a great way to provide entertainment for your customers as well. This is a great way to attract families with children and those who are looking for a place to relax and have some fun while doing their laundry.
These are just a few unique ideas that you can use to set your laundromat business apart from the competition. By offering unique services, you'll be able to attract new customers and keep them coming back.