Whether you're an established franchise, multi-store, or single-store laundromat business owner, savvy owners are always on the lookout for better ways to spend less time operating locations and more time growing them. Luckily, modern laundromat owners have an emerging tool on their side: specialized laundromat management software.
Software and management tools have elevated industries like pizza parlors, barbershops, and gyms. Laundry is one of the only major main street businesses to be underserved by modern software. Cents, the leading laundromat business software and in-store operations platform, enables laundromat owners to grow, manage, and understand their businesses. We're focused on providing a single system to power the entire process of laundromat ownership covering POS, employee management, CRM, revenue reconciliation, hardware integration, and pickup and delivery operations.
By integrating all your laundromat data into the Cents unified system, owners and operators can improve experiences and interactions that keep your customers coming back, optimize efficiency, and expand into new markets. When laundromat business owners can make this happen, their businesses scale up, employees are more successful, and customers are happier.
Let's explore three major ways a comprehensive and industry-specific laundromat management software like Cents can help you grow, manage, and understand your laundromat.
I. Manage laundromat business expectations
A holistic laundromat business software can have a profound impact on the future of your business. Whether you know your business inside and out or you're looking for new growth avenues, collecting and centralizing all your data under one operating system helps your business set goals and expectations that are backed by real-time data.
Managing all operations in one location gives laundromat business owners the control they need in today's world to quickly make decisions that will personalize the laundromat experience and centralize your customers. From incentivizing employees to running predictive machine maintenance to managing costs effectively, you can actively prevent customers from going to your competitors by meeting their expectations.
Drill down into operations and performance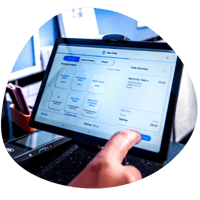 The ability to track employee performance and efficiency is key to increasing margins. Knowing the pounds per hour folded, average processing time, order rating, and frequency at which machines go out of service are all key metrics that many owners and operators either do not track or use inefficient and manual logging tools to do so.
Laundromat management software can shine a light on the machines that get the most use so you can ensure that you're fulfilling those needs. For example, you may find that one location's front-loaders get 70% more turns per day. Now you know to equip this location with more front-loaders. Otherwise, your customers may not wait around for their preferred machine to open up.
Machine maintenance can also be monitored in real-time. Knowing when and where your machines need maintenance is the key to eliminating unplanned downtime. Cents operating system not only tells you when a machine turned but why:
Was it for an employee, customer, or technician?

Did an employee turn on the machine for a customer because the machine next to it was out of service?

Did an employee test the machine?
Laundromat management software that pinpoints the answers to these questions saves your staff time spent looking for them and reduces the cost by resolving issues precisely.
II. Understand your laundromat business flywheel
Powering your laundromat with the right set of people, data, and technology is the foundation that sets your business in motion. If you're looking to make your laundromat business flywheel spiral, you'll need a good understanding of how your business operates and how customers respond.
Understanding your customer and business needs is key to running a prospering laundromat business. The timing has never been better to upgrade the foundation that powers your business.
Deepen customer relationships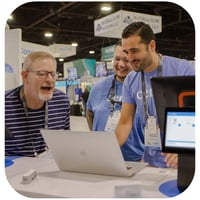 Knowing your customers' laundry needs, wants, and desires helps you engage with them on levels you never thought your business could.
The Cents platform combines a laundromat business management platform with a customer relationship management database. This is your secret ingredient for taking promotions to the next level. Create promotions based on:
Data and time ranges

Specific stores

Product or service types

Minimum and maximum quantities

And more
You'll also be able to track results like:
How many customers engaged with a promo

How much cumulative money was saved

How many customers were returning compared to new

Which promotion campaigns worked better than others
Then continue to personalize your targeted offers to attract and retain loyal customers.
III. Grow your laundromat business market share
Laundromat business owners are witnessing massive shifts in retail operations and are eager to try to get ahead of the curve in the search for software that can help them achieve growth and optimize every aspect of their business.
Although the dry-cleaning and laundry services market took a hit in 2020 due to the COVID-19 pandemic, Research and Markets reported that the market is expected to recover, and the hit is not related to ongoing weakness in the market. The need for innovation in the industry has never been more necessary.
Make payments frictionless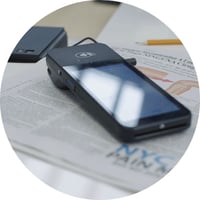 The use of cards, electronic payments, RFID contactless cards, cashless machines, and mobile wallets have increased. With 93 percent of 18- to 34-year-olds making digital payments, laundromat business owners need to ensure payment options are agile enough to meet these changing and evolving customer behaviors.
Cents and Equipment Systems & Devices (ESD) created an integrated solution where businesses utilizing ESD electronic payment systems hardware and cash-card technology can now leverage Cents' in-store and remote management platform. Laundromat business owners using the technology can make payments seamless for customers by accepting any combination of payments. On top of integrating with existing payment systems, Cents also offers its own suite of integrated systems that work directly with the platform.
Cashless machines are also gaining popularity. They are easy to use, provide an alternative to handling cash and the cash management process, give customers a temporary or permanent contactless solution tailored to their preference, and prevent theft.
Bolster service offerings
The rise of dual-income families has increased the growth of on-demand and full-service laundry. With people having less time or resources to do laundry at home or limited access to physical locations due to urban living, there is a growing demand for software companies to help laundromat owners respond to these needs.
The Cents laundromat software makes this possible by keeping all order data integrated and updated under a single, unified platform. These digital records provide staff members with a comprehensive view of all order details to ensure accuracy and help to decrease overall bag or garment loss. Research shows that customers who use wash-and-fold services on two occasions are more likely to continue using this service.
Add no-cost delivery
Offering delivery services has traditionally been a risky and high-cost barrier for laundromat business owners. There's a laundry list of costs like covering van/car expenses, insurance, drivers, gas, and liability. These costs can eat your margins.
Restaurants leverage food delivery services like Grubhub and UberEats, and grocers partner with platforms like Instacart to offer on-demand delivery and save on operation costs. Why should it be different for other businesses to adopt this same model?
The powerful combination of Cents and the gig economy gives laundromat owners a no-cost delivery model and customers a low-cost delivery service. Laundry does not need to be delivered hot out of the dryer, making it a huge cost-saver for laundromat business owners and an attractive option for customers.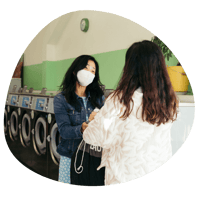 "Cents allows me to scale, streamline my operations and offer new services like Pickup and Delivery without having to have my own drivers or insurance which is a game-changer and helped increase my overall volume by 20%."
- Lily Li, Lily Laundromat Owner & Operator
Level up the laundromat business experience
Frictionless payments, value-add services offerings, and Cents all-in-one laundromat business software makes your staff's jobs easier, freeing up their time to make great customer service a priority.
The time saved on the time clock, payroll, and shift management can be used to ignite an experience that will make your laundromat business stand out from the rest. Laundromat business owners across the globe are continuously trying to outdo the competition by offering a better experience.
Whether it's engaging with regulars, going above and beyond for customers, or offering a unique laundry-day experience, growing your laundromat business with a fully integrated operating system provides owners, operators, and managers with the information needed to easily accommodate their customers' needs of the hour and make the entire laundromat experience an enjoyable pastime.
Try Cents' laundromat management software
An all-in-one laundromat business software solution gives owners the knowledge they need to capture a greater share of the market and create new revenue streams. Cents provides a unified platform to run every aspect of your business.
Grow your laundromat business today by scheduling a demo to try Cents.