When you are looking for a new laundromat to invest in, it is important to analyze the laundromat deal carefully. Some laundromat businesses have their success or failure decided at the purchase, so doing your due diligence is vital to your business's success. There are many factors you need to consider before making a decision.
7 Factors to Consider in a Laundromat Deal
1. Location
You will want to get an idea of who the ideal customer will be near the laundromat. Many different demographics make up ideal laundromat customers, so make sure you know the surrounding areas' demographics. This will make sure you know if the store is set up properly for the right customer. A few examples include blue-collar, lower-middle-class apartment-dwelling families, a large population of college students, or commercial businesses with washing needs.
You also want to make sure that there are not too many competitors in the immediate vicinity as this could cut your profits.
2. Machines and Equipment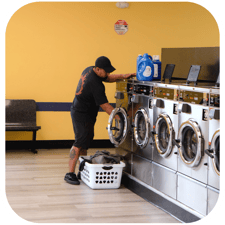 You will want to inspect the washer and dryers in the unit and check if the machines are outdated or in poor condition. This could be a huge cost to you and should be something you anticipate fixing, which should reflect in your purchase price.
You will also want to make sure that there is a good mix of washers and dryers in the store. Having the right machines can give you the best return on investment (ROI) possible.
3. Store Condition
When inspecting the machines and store equipment, inspect the store itself. Make sure the building is in great shape and make note of any areas that need attention.
Are the floors in good condition?

Do the walls need a fresh coat of paint?

Are the fixtures falling apart?

Do the folding tables need to be fixed?
4. Lease Terms
You will also want to look at the lease terms carefully. This includes the length of the lease, the rent amount, and any other special provisions. You will want to make sure that the lease is favorable for your business and that you are not overpaying for the property.
5. Utilities
It's important to understand the cost of utilities for the laundromat like the water, sewer, trash, and electric bills. You'll want to make sure you have the most accurate and up-to-date information on what the current utility costs are.
It's also important to know the average amounts of these bills so you can factor that into your overall costs. If the store is in an area with high utility costs, it could eat into your profits and make the deal less attractive.
6. Vending Price
The vend price is the cost to do a load of laundry. You'll want to know the price of vending in the store and of the surrounding competitors. Vending prices can have a big impact on your bottom line and you need to make sure that you stay competitive.
7. Value Add Opportunities
Once you have done all of your preliminary due diligence, you can now focus on any areas of opportunity you can see for the store. There are many ways to add value to a laundromat and that will be different for every store and demographic. However, some common value-add opportunities include:
Offering additional services such as pickup and delivery or wash and fold.

Adding a café or seating area for customers to relax in while they wait.

Installing coin-operated games, vending machines, etc.

Adding a loyalty program to encourage customers to keep coming back.

Installing TVs and using Atmosphere TV for customer convenience (Laundromat Pro Perk)
By adding value to the store, you can attract new customers and keep existing ones coming back, which can lead to increased profits!
Laundromat Due Diligence Checklist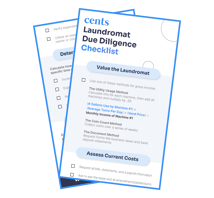 When you conduct the proper laundromat due diligence, you understand what you are buying and what it is worth. To help you in your purchasing process, we've created the Cents' Complete Laundromat Due Diligence Checklist. It contains all the information you need from this guide in an abbreviated, accessible form to assist you in conducting laundromat due diligence every step of the way.
Learn More About Analyzing a Laundromat Deal
When looking at a laundromat deal, it's important to analyze all aspects of the business and make sure that it is a good fit for your needs. You will want to inspect the machines and store equipment, look at the lease terms, analyze the vending price, and identify any value-add opportunities. If you can see areas where you can improve the store and add value, then it may be a good deal for you!
The Laundromat Resource Pro Community offers an in-depth course on "How to Analyze a Laundromat Deal." Learn more about Laundromat Resource Pro Community.