If you're a laundry business owner, you know how important it is to have a solid marketing strategy—you also know how complicated it can be to build one. When you're at the beginning of your journey, it's easy to get overwhelmed by all the complicated components of marketing your business.

In this blog, we've simplified it. You'll learn the basics of launching a marketing program, how to define your target audience, which online platforms to pursue, how to measure success, and the laundromat marketing plan template to use to create your strategy. Download the template to follow along:
1. What's your special sauce?
Decide exactly what your laundry business does. Sure, you do laundry—but you actually do so much more than that! Defining exactly what you aim to accomplish in your community, what niche you fill, how you solve your customers' problems, and what your special strengths are will create the solid platform needed to build an effective (revenue-generating) marketing strategy for your laundry business.
Decide on your mission statement… and shout it from the rooftops!
You are an essential service in your community. You're there to make the lives of your neighbors easier and that's very important! Your mission statement humanizes you and helps you show your customers in which ways they can count on you. Stake all your business decisions and dealings on this mission statement, faithfully, to tell a consistent brand story throughout your marketing communications. Your mission statement should be short and sweet and communicate what you aim to accomplish with your business.
Assess your services
Once you nail down your laundry services, you can confidently talk about whom you can serve and how.
Are you a coin-operated laundromat?

Do you offer pick-up and delivery?

Do you do wash-and-fold?

What about dry-cleaning?

Do you have the capacity and resources to serve businesses as well as residents?
For example, if you have a coin-operated laundry business, an in-house driver, and the staff and equipment to serve residential customers, you can serve commercial clients like restaurants and hotels. Knowing and documenting this information will aid you in crafting your marketing messaging.
Get creative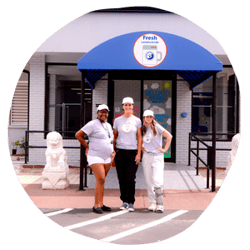 There are a whopping 30,000 laundromats in the US. That means you need to find a way to stand out. Take Fresh Laundry & Cafe in Gainsville, Florida, for example. They've mastered the art of creativity with their laundromat concept. Not only do they offer self-service washers and dryers, wash-dry-fold, and pickup and delivery, but they also have a fully-functional cafe that provides customers with fresh coffee, tea, smoothies, local bakery items, and light casual food.
Emphasize your strengths
Are you particularly proud of your next-level customer service? Do you offer specialty services like sneaker cleaning? Are you the fastest wash and fold service this side of the Mississippi? Don't keep it a secret! Once you find your footing in this industry, you can position your strengths in terms of how they solve your customers' problems!
2. Define your target audience
You have to know the people you're selling to. Creating and documenting detailed information about your target audience helps you achieve that goal! Great laundromat owners know exactly who their ideal client is and can expertly cater their marketing communications to appeal to that person.
Types of laundromat target audiences:
College Students

Apartment Renters

Single/Multi-Family Households

Blue Collar Workers

Business Professionals

Commercial Businesses
Use your location to your advantage
Your address plays a major role in defining your target audiences. What types of customers exist within a nearby radius of your business? If you do business in a college town, you probably want to cater your services and marketing communications to college students. If you're located in a city, appealing to apartment renters, condo owners, and local businesses is a great idea!
Do your research
Accurate target audience documentation is only followed by in-depth research! One of the best ways to learn about your target audience is by having direct conversations. Be sure to keep up with consumer trends in the laundry industry through resources like the Coin Laundry Association (CLA). Conversations and data will inform you of your customers' genuine interests and pain points, which will help you document detailed target audiences and effectively market your brand to them.
3. Price appropriately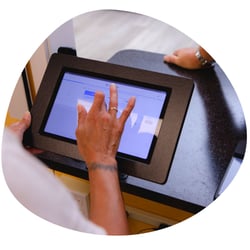 You can market your heart out but if your prices aren't in line with the local market, your efforts and investments could go to waste. Aside from researching what your local competitors are charging, you should also take into account the fluctuating overhead costs you bring in each month.
Again, it's important to research
Pricing is not "set and forget". When you're determining your laundromat pricing, an essential, ongoing step is monitoring what your competitors are doing. The prices you set per machine, wash-and-fold, and pickup and delivery services should reflect the market value of those services.
Consider your location, services, and other important factors
Your prices are not determined simply by your services alone. Your location and its convenience should be factored into pricing. Also, keep in mind that the details matter. If your laundromat boasts high-quality customer service, white glove services, and top-of-the-line machines, you can likely bake in a greater profit margin.
Raise prices ethically, as needed
Its not inherently a bad thing to raise prices. Think about when you go grocery shopping: you may reach for a carton of eggs to find they're a dollar more expensive than they were last month. As a consumer, you didn't get a heads-up about the rise in price, nor did you expect to. In short, you have every right to raise your prices as the market dictates. It's on you—in the age of inflation—to continue offering your customers the service that you promised them as prices fluctuate.
4. Be visible to your customers
The days of relying on foot traffic and word-of-mouth are over. Your customers hang out online, so you should, too! Creating a presence online will help you build trust with your customers, find new ones, and share information about your business.
Create a Google Business Profile
In our increasingly digital world, having as much presence online as possible is so important. A Google Business Profile is like a digital storefront, with photos of your laundromat, customer reviews, hours of operation, phone number and address, and other essential information. When someone Googles your business, your Google Business Profile should show up. When customers see this, it automatically starts building trust! Get step-by-step instructions on how to start your Google Business Profile.
Establish your website
Almost 50% of online searches are looking for something local. So when someone in your area Googles "laundromat near me" or "laundromat south Boston," your laundromat should pop up as a search result. Making sure you have a professional, well-designed website with up-to-date information is essential because it creates a good first impression with potential customers. Simply put: if you don't exist online, you're leaving money on the table. Once you have a website and Google presence, you'll be able to run paid ads to reach thousands of potential customers in your local area.
Set up social media profiles
Social media platforms like Facebook, Instagram, Twitter, and even LinkedIn are excellent for connecting with potential customers and promoting your services. These visual mediums allow you to share photos and important information about promotions, new services, upcoming events, and other updates to your business. You can even run paid ads on these platforms to reach an even larger audience. It's also an opportunity to give some personality to your brand by creating a direct channel for communication between you and your customers. Check here for more tips!
Use email and SMS marketing, often
The more touch points you create with your audience, the more you'll occupy your customers' minds. Using an email marketing service and sending out a regular cadence of emails allows you to keep in communication with your customers outside of your four walls. You can use this as an opportunity to share updates about your business and offer special deals. Don't forget—when new customers come into your business, always be sure to collect their email!
Throw events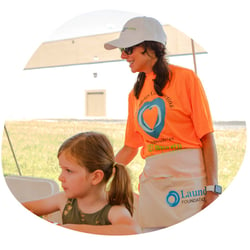 Hosting and participating in local events is a great way to establish yourself as a positive presence in your community. Special events can be a great way to encourage customer loyalty and attract new customers. This gives you an opportunity to get to know your audience even better. You can also participate as a sponsor in charity events to show your values. The LaundryCares Foundation is a great way to support your local community with a free laundry and literacy day!
5. Harness the power of promotions
Promotions set you apart from your competitors. When someone is deciding what laundromat to use, in most instances, the largest factors are proximity to their home and total cost. As the price of essentials continues to rise across the board, any savings you can offer will be majorly appreciated by your customers. Creating an irresistible offer can tip the scales in your favor.

There are all different types of promotions that can help you attract new customers, keep existing customers, encourage referrals, and inspire engagement with your brand. Consider these time-tested promotions when building your laundromat marketing plan:
Social media contest: Challenge customers to snap a pic with their clean laundry and post it on Instagram or Twitter with a hashtag of your choosing. The person who posts the coolest or most creative photo earns free laundry!

Loyalty program: Returning customers are your most valuable customers and they should be rewarded! Give your customers a loyalty card they can get stamped every time they choose your business to do laundry, and give them a discount when they reach 10 stamps.

Referral discount: Use your customers' loyalty to your advantage! Incentivize your existing customers to refer friends and family by offering them discounts (for the existing AND new customers).

"Discount Day" promotion: Pick a day each week or month when you offer a discount—like 10% off laundry—to all customers that do more than one load. It's like a mini holiday for your laundromat!

Gift with purchase: Get new customers excited about doing business with you! Gift a small promotional item (such as a laundry bag or fabric softener sample) to every new customer who enters your laundromat.
6. Create a budget and measure success
A laundromat marketing plan is only as good as your budget and ability to measure its success. The last thing we recommend is shooting in the dark, which is why it's important to establish a dedicated budget for your marketing efforts and measure your campaigns to make sure you're getting a positive return on your investment.
Determine a monthly budget
Any good marketing budget needs to establish clear and attainable goals for new customers and revenue growth. If you want to get strategic about your marketing budget, you need to focus on the two main data points that affect your bottom line: cost per lead and conversion rate. In determining your marketing budget, also consider if you will need another member on your staff in order to run your marketing program.
Measure marketing success
First, determine what your goals are:
Are you looking to build your brand or generate new customers?

Are there certain revenue goals you want to achieve?
Once you have answers to these questions, you can consider which metrics to measure. While the metrics you choose to follow will be unique to your goals, you should get into the habit of regularly monitoring your Google Analytics for your website, social media engagement, conversion rates of your marketing efforts, and any other statistics that relate to your goal(s).

Our template breaks down each of these steps into a comprehensive marketing plan that you can use when creating your marketing strategy. Download and print it out to get started.