In the world of business, customers are the lifeblood, and laundromats are no exception! Any laundromat's success depends on loyal customers who bring in revenue and help the business grow. So, it's essential to have practices in place to attract more customers to your laundromat and keep them coming back.
In this blog, we'll discuss some of the most effective ways a laundromat owner can generate more customers for their business, including tips on how to take care of your customers, how to regularly reinvest in your business, how software can create a better customer experience, why a marketing plan is so important, how to to create a more inviting atmosphere, how to offer more amenities, and ultimately, how to get more customers for your laundromat.
6 Ways to Attract More Customers to Your Laundry Business
By implementing these strategies, you can attract more customers to your laundromat business, make more money, and offer a superior customer experience that results in retention. Keep reading to learn everything you need to know about attracting more customers to your laundromat!
1. Create a comfortable and inviting atmosphere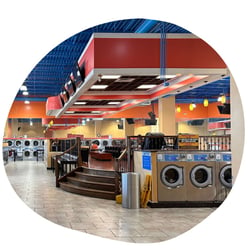 A clean and comfortable environment is essential for customers to feel relaxed and at ease while doing their laundry. Customers are more likely to return to a laundromat, or any business for that matter, that feels welcoming and safe. It's crucial to pay attention to the ambiance of your laundromat.
One way to create an inviting atmosphere is by adding comfortable seating for customers to wait while their clothes are being washed or dried. Good lighting is also important for creating a welcoming atmosphere. Make sure your laundromat is well-lit, especially in areas where customers will be doing their laundry. Consider adding task lighting over folding tables or installing ambient lighting to enhance the overall ambiance of the space.
Another way to create a welcoming atmosphere is by playing music. Choose music that is appropriate for all ages and genres that will appeal to a wide variety of customers. Soft, ambient music can help customers feel calm and relaxed, while upbeat music can create a more energetic and lively atmosphere. Also, keeping your laundromat clean and tidy is essential. Regularly cleaning and maintaining the machines, floors, and restrooms will help create a clean and welcoming environment for customers.
2. Take exquisite care of your customers
Taking exquisite care of your customers is a fast track to nurturing a positive reputation for your laundromat business and fostering customer loyalty. By going above and beyond when it comes to customer service, you can differentiate yourself from the competition and create an experience that customers will rave about.
One effective way to take exquisite care of your customers is by modeling the best customer service businesses out there. Take note of how they interact with their customers, how they handle customer complaints, and how they go the extra mile to create a positive customer experience. By incorporating these best practices into your own business, you can create a similar level of exceptional customer service.
Cents also offers tools that help you take exquisite care of your customers. Cents is a laundromat management software that offers a business-in-a-box solution for laundromat owners, complete with simple and powerful tools for your employees to ensure your customers have a memorable experience they love. With Cents, you can easily track customer feedback and complaints, ensuring that any issues are addressed promptly and effectively. You can also monitor employee performance, ensuring that they are providing excellent customer service at all times.
3. Reinvest in your business every year
The best owners are always looking for ways to reinvest in their businesses. By investing in both big and small ways, you can improve the overall appearance and functionality of your business, leading to increased customer satisfaction.
Adding new washing machines and dryers is one significant way to reinvest in your business. Upgrading to newer and more efficient machines can improve the quality and speed of your services, leading to happier customers and increased revenue. Adding features such as contactless payment options can also enhance the customer experience and make your laundromat more convenient to use.
Reinvesting in smaller ways, such as painting the interior or exterior of your business, can also make a big impact on the overall appearance and atmosphere of your laundromat. Freshening up the look of your business creates a more inviting and pleasant vibe, ultimately leading to impressed customers.
Adding a laundromat management software like Cents is also an effective way to reinvest in your business. By streamlining your operations and improving the overall customer experience, Cents can help you improve efficiency and increase revenue.
4. Offer a range of amenities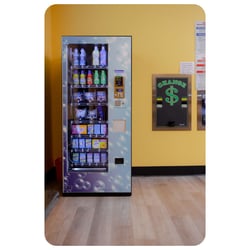 Providing amenities can make the laundry experience more enjoyable and convenient for customers. Many customers bring their phones, laptops, and tablets with them to pass the time while their clothes are being laundered. Offering free Wi-Fi will allow customers to browse the internet, watch videos, or work remotely while waiting for their laundry to be done.
Vending machines are also a great option. Customers may forget to bring laundry detergent or fabric softener, and vending machines can provide a convenient solution. You can also offer snacks and beverages for customers to purchase, which can make the wait more enjoyable and convenient.
TV screens are another amenity that can enhance the customer experience. Providing entertainment options, such as news or sports channels, can improve the laundry experience and keep customers entertained while they wait. It is also important to keep amenities clean and well-maintained. Vending machines should be stocked regularly, and TV screens should be free of scratches or dead pixels. Customers will appreciate well-maintained amenities and are more likely to return to a laundromat that offers a high-quality laundry experience.
5. Implement effective marketing strategies
Effective marketing strategies are crucial to reaching your goal of bringing new customers to your laundromat. Marketing allows you to communicate the unique value of your business to potential customers, differentiate yourself from your competitors, and get the word out about your services.
First thing first: make sure you have an accurate, up-to-date, professional website. A website allows potential customers to find you online and learn more about your business, such as the services you offer, your location, and your pricing. A website can also provide customers with a way to contact you and leave reviews or feedback.
Start promoting your business on social media. Social media platforms such as Facebook, Instagram, and Twitter can be used to showcase your laundromat, promote special deals and promotions, and engage with customers. You can also use social media to share customer reviews and testimonials, which can help build trust and credibility with potential customers.
Running promotions, such as discounts or contests, can also be a smart move. Promotions can incentivize customers to try your laundromat and create excitement around your business. Consider running promotions during slow business periods to attract more customers when you'd typically experience a dip in revenue.
At Cents, we offer a range of marketing tools and resources to help laundromat owners attract more customers. Our Cents Accelerate program includes marketing resources such as professionally designed flyers, posters, and social media graphics. We also provide a Laundromat Marketing Plan that you can download to help you create an effective marketing strategy for your business.
Download our marketing plan
6. Provide excellent customer service
You can update your business, offer a wide spectrum of fun and convenient amenities, and have the nicest-looking website out there, but if you don't build a foundation of excellent customer service, then it's all for nothing! Great customer service can help build the priceless loyalty and trust that create lifelong customers.
Hiring friendly and knowledgeable staff is key to providing next-level customer service. Your staff should be trained to greet customers with a smile, answer questions about your services, and offer assistance when needed. A positive and helpful attitude can make a big difference in the customer experience. Responding quickly and effectively to inevitable customer complaints is also important for providing excellent customer service. Teach your staff to listen to customer concerns and address them promptly and professionally. This can help to prevent negative reviews or word-of-mouth referrals.
Offering loyalty programs, such as frequent washer programs or rewards for referrals, can also be an effective way to improve customer service and honor your repeat visitors. Loyalty programs can help build relationships with customers and incentivize them to continue doing business with your laundromat. It's also important to regularly evaluate and improve your customer service processes. Soliciting feedback from customers through surveys or polls can help identify areas for improvement and ensure that your customers are receiving the best possible experience.

Attracting more customers means more opportunity
Attracting more customers to your laundromat business not only means increased revenue but also presents more opportunities to improve your business and better serve your customers. With more customers, you can gather more data on their preferences and needs, allowing you to tailor your services to meet those needs more effectively. Use the tips in this blog post to take your laundromat to the next level and make it irresistible to potential customers. Also, don't underestimate the power of laundromat software!
Cents has a range of tools meticulously designed to help you grow your laundry business and streamline your overall processes. With Cents, you can manage all aspects of your business, including machine maintenance, employee management, and customer service, all in one convenient platform. This software can help you identify areas for improvement, make data-driven decisions, and grow your business.
Schedule a free demo to see how Cents can help you grow your laundry business and better streamline your overall processes.
Jordan Berry is the mind behind LaundromatResource.com, which aims to help clients learn about and break into the laundry industry. Jordan Berry's 2 Cents is a spin cycle on our proverbial customer education machine that we like to run whenever we can. Keep an eye out for more of his featured input in the future!