As a laundromat owner, you probably ask yourself from time to time: what makes a laundromat successful? After helping hundreds of laundromats scale their business, we've boiled it down to a combination of several factors, including a prime location, clean and welcoming atmosphere, well-maintained equipment, exceptional customer service, and effective marketing and promotions.
Each of these elements plays a critical role in attracting and retaining customers, building a loyal customer base, and driving the success of your business. In this blog post, we'll explore each of these factors in detail and provide examples of successful laundromats so you can take a page out of their book.
6 Key Factors to Running a Successful Laundromat
1. Location, location, location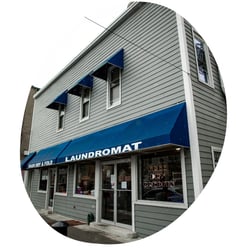 Location is one of the earliest factors in determining the success of your laundromat business. When choosing a location, you must consider things like foot traffic, parking, and competition. A location with high foot traffic and easy access to parking can increase the visibility of your business and attract more customers. Also, the presence of competitors in the area can be a good sign as it indicates a demand for laundry services, but it can also be a challenge if there are too many competitors in the same location.
To leverage your location, you can use strategies such as advertising your laundromat in the local community, offering incentives to customers, or partnering with nearby businesses to cross-promote each other. You can also improve your laundromat's presence by investing in attractive signage and a visually appealing storefront.
2. Clean, bright, and welcoming atmosphere
Keeping your laundromat clean is of utmost importance. You will lose customers if your laundromat is not clean. Similarly, keeping your laundromat bright contributes to a sense of cleanliness and creates a more welcoming environment. Training employees to be friendly and welcoming will create a positive experience for customers and help ensure they keep coming back to your laundromat.
Good employee training is at the core of keeping your laundromat business clean, bright, and welcoming. It's essential to make your expectations clear, to ensure that employees are following through on their assignments, and to give them the tools they need for success. Using a management system like Cents can make it easier to give your employees systems and tools to help them do their jobs well and to ensure your laundromat succeeds.
3. Reinvest in your laundromat
The most common way to reinvest in your laundromat is to purchase and install new equipment. There are other ways to reinvest in your laundromat, as well. A fresh coat of paint inside or outside your laundromat, adding plants, replacing old signage, and anything else you can do to freshen up the look of your laundromat can communicate to customers that you care about their laundromat.
Another example of how to reinvest in your laundry business is to invest in a business-in-a-box management system like Cents. Cents will help you manage your systems and give your employees the tools they need to be successful. It will help them represent your business well to customers and make it easier for you to run a successful laundromat.
4. Equipment and maintenance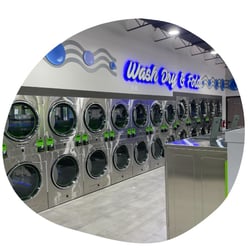 Maintaining your laundromat equipment and ensuring cleanliness is essential. Customers expect clean and well-maintained machines that work efficiently. Dirty or broken machines can lead to dissatisfied customers and can hurt your business. So, it's important to implement strategies that keep your equipment in good condition and your store clean.
In this effort, you should conduct regular maintenance checks. This can include cleaning lint traps, checking the machines' bearings and belts, and inspecting for any signs of wear and tear. Regular maintenance can also help you identify any potential issues before they become major problems. Regularly cleaning the floors, machines, and other areas of your store can create a welcoming environment for customers. Keeping the store clean also reduces the risk of pests and can prevent equipment breakdowns due to buildup. Investing in high-quality equipment is also a smart move. Many laundromats have found success by keeping durable and efficient machines that can handle high-volume usage.
One example of a laundromat that ticks these boxes is Queen City Laundry. Their facility is known for its modern and efficient machines that cater to both residential and commercial customers. As a result, they've established themselves as a top-rated laundromat in their community.
5. Next-level customer service
High-quality customer service is the cheat code of the laundry industry. Customers want a positive experience when using a laundromat, and you have the power to do that by offering great customer service.
Hiring friendly and knowledgeable staff is a great strategy for improving customer service. Staff members who are smiling, approachable, responsive, and able to answer questions can meet your customer's needs. Plus, providing amenities such as snacks, coffee, or a TV can also make customers feel more comfortable and at ease while they wait for their laundry.
You should also consider implementing loyalty programs or offering promotions to incentivize customers to return. This can encourage word-of-mouth referrals.
One example of a laundromat with exceptional customer service is Fresh Laundry & Cafe. They offer a welcoming and comfortable environment for customers to relax while doing their laundry. They provide a variety of amenities, including free Wi-Fi, coffee, and snacks, and they have friendly and knowledgeable staff members who are always willing to help. Fresh Laundry & Cafe has built a loyal customer base and has received many positive reviews, making them a standout laundromat in their community.
6. Effective marketing and promotions
Marketing helps to create awareness of your business and communicates your brand identity and values to potential customers. Promotions incentivize customers to try your services and can help to build a loyal customer base.
There are several strategies for effective marketing, including social media advertising, direct mail campaigns, and in-store promotions. Social media advertising allows you to target specific demographics and can be a cost-effective way to reach potential customers. Direct mail campaigns can be personalized, which helps you generate qualified leads for your business. In-store promotions, such as offering discounts on specific days or providing free services for first-time customers, incentivizes them to give you a shot and keep them coming back to your laundromat.
The Soap Box has implemented effective marketing strategies to promote their business and differentiate themselves from competitors. They have created a strong brand identity that emphasizes their range of services and professionalism. The Soap Box also utilizes social media to engage with their customers and build brand awareness. They have an active presence on Instagram and Facebook, where they post about their services, promotions, and news. They also leverage SMS marketing to stay engaged with their customers, give them updates on the progress of their laundry, and share discounts and deals to reel them back in time and time again!
Next steps to attract more customers
Running a successful laundromat is within your ability! Maintaining a clean and welcoming environment, investing in high-quality equipment and maintenance, providing excellent customer service, and effective marketing and promotions are all critical to reaching your goals.
It's important that you balance these factors and prioritize the ones that will have the most significant impact on your business. For example, while maintaining clean machines is important, investing in high-quality equipment may be a more significant priority. Also, keep in mind that no matter how good your equipment or how excellent your customer service is, the first step is getting customers through the door! That's where marketing and promotions come in.

If you're interested in learning more about laundromat marketing, be sure to watch our webinar recording, "The 3 Fundamentals of Laundromat Marketing." This will provide you with valuable insights into effective marketing strategies and help you take your laundromat business to the next level.
Jordan Berry is the mind behind LaundromatResource.com, which aims to help clients learn about and break into the laundry industry. Jordan Berry's 2 Cents is a spin cycle on our proverbial customer education machine that we like to run whenever we can. Keep an eye out for more of his featured input in the future!